Apple Maps mass transit information for Vancouver, San Diego goes live [u]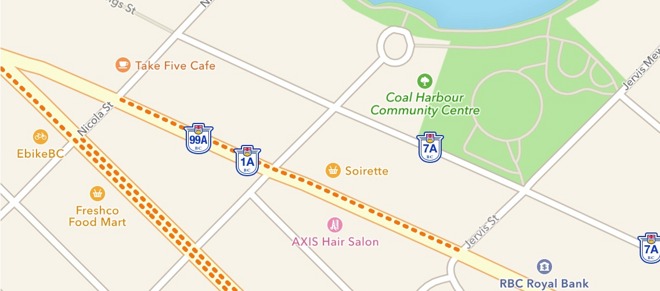 AppleInsider may earn an affiliate commission on purchases made through links on our site.
Apple on Monday added public transit directions for Vancouver, British Columbia and San Diego, California for users of the Maps apps on iOS and OS X.
Quietly launched today, the data sets for the two cities include all forms of public transportation in the two cities, including live mapping of some transit assets. As usual, the app will pick and choose various methods of transport available when considering a route to help a traveller reach a destination faster.
Most of the cities Apple supports in maps are located in the U.S. and China. Locations with transit information added prior to today's additions in the U.S. are Atlanta, Austin, Baltimore, Boston, Chicago, Denver, Honolulu, Kansas City, Los Angeles, Miami, New York City, Philadelphia, Portland Ore., Sacramento, San Jose, San Francisco, Seattle, and Washington DC. The iOS 9 feature guide does not yet include Monday's additions.
During the iOS 9 launch, Apple Maps only had transit information for seven US cities, and 30 cities in China. Google Maps transit information has a much wider penetration than Apple Maps' implementation at this time. However, transit in Apple Maps gives users a top-down navigation view of underground subway and train stations in addition to local schedules, a feature that Google Maps lacks.
Apple notes that the company currently gets data from over 250 transit agencies, and its station data maps over 16,000 station entrances across supported cities. Additionally, implementation of new locations is much more complicated than it appears at first glance — each location added spans areas exceeding just the city it is centered in, and is customized for specific areas.
Additions in Maps included in the forthcoming iOS 10 include the app storing where the driver's is parked based on the completion of a trip that does not end at home, as well as the ability of third-party applications to extend the functionality of the app through extensions.
Update: Information received by AppleInsider indicates Apple is using BC Transit data to power Maps services in Vancouver, British Columbia, meaning bus support technically reaches beyond advertised city limits.