Cirrus Logic shares rise on Apple iPhone, other devices dropping 3.5mm headphone jacks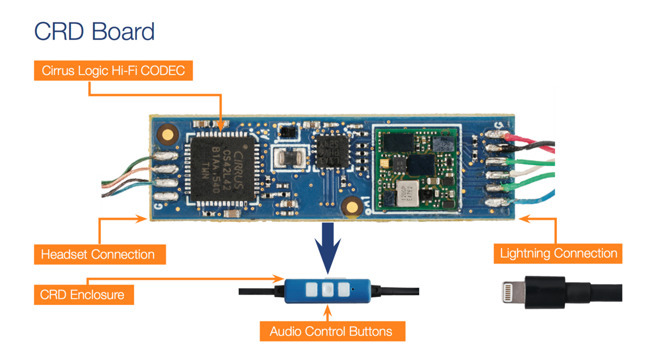 Shares of Apple audio parts supplier Cirrus Logic spiked in after-hours trading on Wednesday night as the company not only beat quarterly forecasts, but implied that it stands to benefit from Apple's "iPhone 7" and other smartphones ditching 3.5-millimeter headphone jacks in favor of USB and Bluetooth.
Cirrus is poised to generate more revenue per phone sold with all-digital audio, according to analysts quoted by Barron's. In a Wednesday results call, CEO Jason Rhode noted that some phones have already switched over to USB-C, either bundling or selling compatible headsets and adapters. This is despite current USB-C audio technology being "clumsy," something he expects to be resolved in the next six to 12 months.
"I think we're extremely well-positioned to capitalize on that," Rhode commented. Apple uses a proprietary connector format based on USB, called Lightning.
Needham analyst Rajvindra Gill linked Cirrus' quarterly results to "stabilizing Apple iPhone 7 units combined with a ~40% dollar content increase," nevertheless warning that the second half of 2016 could be jeopardized by "potential sell-through risks at Apple." That's presumably a reference to predictions that the "iPhone 7" will mostly be another interim update, with a faster processor and better camera technology, rather than a significant redesign.
Gill suggested that Apple — and by extension Cirrus — will do well with next year's iPhone, which may finally bring a major redesign. He predicted that Apple should see sales rise year-over-year, while Cirrus may make $7 per phone versus $5.
Public reaction to the idea of losing 3.5mm headphone jacks has often been negative, since the format is still an industry standard and many people have headphones and speakers that will suddenly be incompatible without an adapter.