App Store billings reached all-time high in July, $50B paid out to developers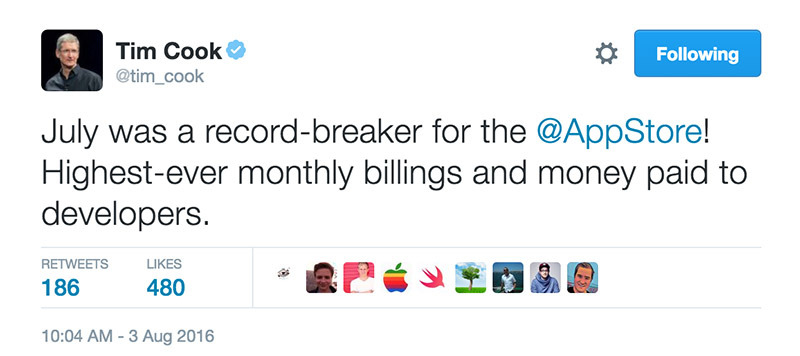 AppleInsider is supported by its audience and may earn commission as an Amazon Associate and affiliate partner on qualifying purchases. These affiliate partnerships do not influence our editorial content.
In a rare tweet extolling the performance of a specific Apple product, CEO Tim Cook on Wednesday said July was a record-breaking month for the App Store, with highest-ever monthly billings and payouts to developers.
Cook followed up the initial tweet by congratulating App Store developers, who have now earned more than $50 billion since Apple's software sales platform launched in 2008. No figures were discussed beyond the massive payout number.
The comments come a week after Apple revealed a record-setting quarter for its services business, which includes iTunes, iCloud, Apple Music, Apple Pay, Apple Care and the various App Stores. Over the past year, revenue from services jumped $4 billion to $23.1 billion. Of note, App Store revenue reached a new all-time high after finishing up 37 percent for the quarter.
During Apple's most recent investor conference call, Cook said Apple's services alone will be the size of a Fortune 100 company next year.
Historically, Cook uses Twitter as a PR service, tweeting out generic updates on current events in the Apple world or commentary on human rights issues. While corporate initiatives often find their way into Cook's tweets, like the Didi Chuxing investment in May, rarely are individual product lines discussed.