Google updates iOS versions of Docs, Sheets & Slides with iPad multitasking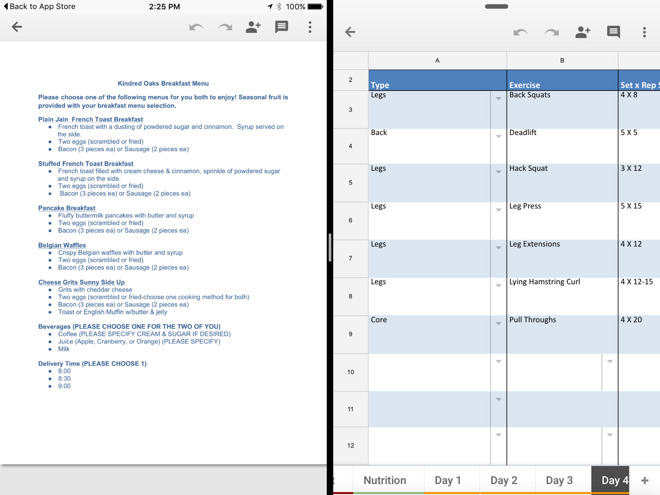 AppleInsider may earn an affiliate commission on purchases made through links on our site.
Google on Wednesday released important updates to its Docs, Sheets, and Slides clients for iOS, finally giving iPad owners access to true multitasking with its productivity suite.
All three apps now support iOS 9's Slide Over and Split View. Slide Over allows users to briefly swipe in another app for small tasks like checking Twitter or jotting down notes, though only one app can be controlled at a time.
Split View allows two apps to run side-by-side, but works only on more recent hardware including the iPad Air 2, iPad mini 4, and 9.7- and 12.9-inch models of the iPad Pro.
Google's support is late in coming, since rival work suites from Apple and Microsoft have had iPad multitasking for some time. In fact iOS 9 is almost a year old, making it that long since the company could've added the technology.
The updates otherwise concentrate on bugfixes, though Docs users can now insert images and page breaks.