Samsung to shut down Milk Music streaming service in September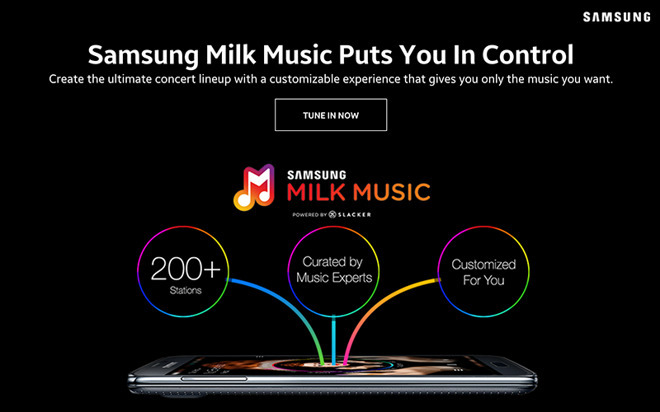 Samsung on Monday announced it will officially end Milk Music streaming services in September, bringing an end to the company's in-house product that launched in the U.S. only two years ago.
Samsung has decided to "invest in a partner model" as it looks to integrate third-party music services into its lineup of Galaxy devices, the company said in a statement.
"We believe that working with partners will accelerate innovation, enhance device sales and provide amazing new experiences for our customers," Samsung said.
Milk Music launched in 2014 as a streaming service exclusive to Samsung devices. The company later tacked on Milk Video and Milk VR to round out the brand's multimedia offering, but the platforms failed to gain traction. Milk Video died in 2015 and when Milk Music shuts down next month, Milk VR will be the lone survivor.
Earlier this year, reports suggested Samsung was looking to offload Milk Music after seeing poor subscriber numbers and low returns on significant investments.
At the time, the Korean company was said to be planning an exit strategy involving a tie-up with Tidal, the upstart streaming service owned by rapper Jay-Z. A Samsung representative later told AppleInsider that those rumors were false.
Underscoring the intense competition facing streaming industry rivals, Tidal is now rumored to be in "exploratory talks" with Apple over a potential acquisition. As it stands, Apple Music is one of only three major providers to see success in streaming, the other two being Pandora and market leader Spotify.
Samsung's Milk Music will cease operations on Sept. 22.