Apple calls Australian banks' request to bargain over Apple Pay a detriment to consumers, mobile wallet adoption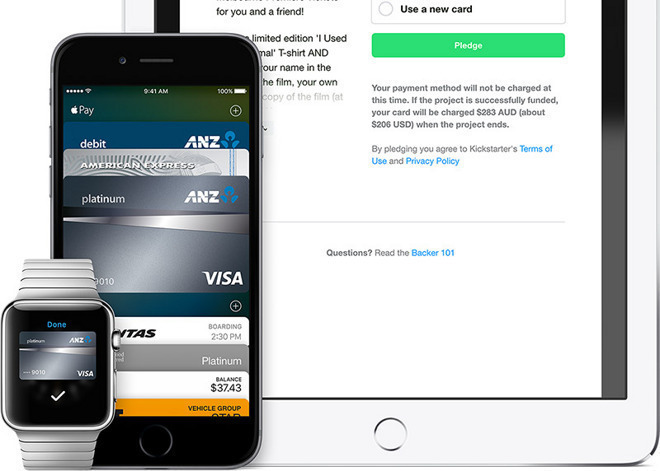 Apple in a recent filing with Australia's antitrust watchdog slammed a request from the country's three top banks for collective negotiations over third-party access to Apple Pay NFC technology, saying a threatened boycott would not only harm consumers, but hinder mobile wallet adoption and innovation.
Apple's submission to the Australian Competition and Consumer Commission comes as the body decides whether to allow banks in the region power to negotiate terms for access to iPhone's mobile wallet hardware. The response was made public on Monday and follows an initial letter to the ACCC filed earlier this month.
Australia's "big-three" banks, the Commonwealth Bank of Australia, National Australia Bank and Westpac Banking Corp, along with Bendigo and Adelaide Bank, initially lodged their application to negotiate in July. Among the numerous contingencies afforded as part of the request are terms for offering third-party mobile wallet services on Apple devices, the ability to charge consumers fees for using Apple Pay and a narrow set of security guidelines drafted by the banks.
"Apple expects that, if the boycott and collective negotiation conduct were permitted to occur, the banks involved will advance in lockstep with the slowest, least willing member of their cartel," Apple said. "This delay is likely to harm consumers and slow the pace of innovation for mobile wallets in Australia."
The banks are looking to stall consumer adoption of Apple Pay and other mobile wallet solutions with onerous authorization stipulations, a process that stifles competition, Apple says. Further, the banks are asking the ACCC for three years to negotiate amicable terms, a period Apple suggests was designed to create yet another artificial barrier to adoption.
Attached to — and cited frequently — in the lengthy response is a report from Dr. Christopher Pleatsikas, an economist based in San Diego, Calif., who provides an almost point-by-point rebuttal of the banks' request.
For its part, the banks say Australians have been moving to contactless payments systems long before Apple broke onto the scene, a spokesman for the banks told AppleInsider in an emailed statement. The banks claim they, along with Australia's merchants and payments processors, have played an integral role in the rollout of touchless solutions.
"Apple's submission to the ACCC makes it clear that Apple does not want to give iPhone users the ability to choose an integrated third party wallet of their own preference," the spokesman said. "Unlike users of Samsung and Android, Apple is blocking access to the NFC function and wants to leave iPhone users with no choice but to use Apple Pay. Their submission to the ACCC claims this lack of choice is in the best interest of Australian consumers. The applicants disagree. Instead, they want to negotiate with Apple so there is an opportunity to offer other integrated wallets alongside Apple Pay."
Retailers and payments associations have, in fact, filed in support of joint negotiations, citing market stimulation, security and payments fees transparency, among other consumer issues.
The ACCC is expected to arrive at a decision by October. In the meantime, the watchdog denied banks interim authorization to negotiate with Apple citing complexities of the issue at hand.