Fiat Chrysler adds Apple's CarPlay to 2017 Charger, Challenger & 300 models
By Roger Fingas
Thursday, September 01, 2016, 02:05 pm PT (05:05 pm ET)
Through a new Uconnect 4.0 dash interface, Fiat Chrysler is adding three 2017-model vehicles to its lineup supporting Apple's CarPlay platform: the Chrysler 300, the Dodge Charger and the Dodge Challenger.




Uconnect 4.0 is available on "properly-equipped" models of the three cars, Fiat Chrysler said. The interface revolves an 8.4-inch multi-touch display, and also supports Google's Android Auto.



The 2017 Charger.



The unusually large screen space is enabling a persistent menu bar, accessible regardless of which devices are connected. Drivers can jump back and forth from CarPlay to other car controls like radio, air conditioning, and native apps such as navigation.



Later this month Apple is expected to officially release iOS 10, which should bring significant changes to CarPlay. Among these are the ability to hide and rearrange homescreen icons, and the automatic addition of a parking spot in Apple Maps whenever an iPhone is disconnected.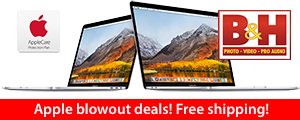 2018 13" Touch Bars
Price
Save
2.3GHz/8GB/256GB (Gray)
$1,699.00+
$100
2.3GHz/8GB/512GB (Silver)
$1,879.00+
$20
2.3GHz/16GB/512GB (Gray)
$2,099.00+
$100
2.7GHz/16GB/512GB
$2,449.00+
$50
2.7GHz/16GB/1TB
$2,849.00+
$50
2018 15" MacBook Pros
Price
Save
2.2GHz/16/256GB/555X
$2,215.00+
$185
2.2GHz/32/1TB/560X
$3,449.00+
$50
2.6GHz/16/512GB/560X
$2,575.00+
$224
2.6GHz/16/1TB/560X (Gray)
$2,999.00+
$200
2.6GHz/32/1TB/560X (Gray)
$3,399.00+
$200
2.6GHz/32/2TB/560X (Gray)
$3,999.00+
$400
Click here for dozens more configurations
+ Free shipping within the contiguous U.S.
Lowest Prices Anywhere!

13" MacBook Pros
Price
You Save
3.1GHz/8GB/256GB Gray
$1,679.00
$120.00
3.1GHz/8GB/256GB Silver
$1,704.00*
$95.00
3.1GHz/8GB/512GB Gray
$1,849.00*
$150.00
3.1GHz/16/512GB Gray
$2,099.00
$100.00
15" MacBook Pro
Price
You Save
2.8GHz/16/256/555 Silver
$2,199.00*
$200.00
2.8GHz/16/256/560 Gray
$2,299.00
$200.00
2.9GHz/16/512/560 Gray
$2,599.00
$200.00
2.9GHz/16/1TB/560 Gray
$2,999.00
$200.00
3.1GHz/16/512/560 Gray
$2,799.00
$200.00
3.1GHz/16/2TB/560 Gray
$3,899.00
$300.00

*

price with Promo Code:

APINSIDER

prices.appleinsider.com for more configurations