Repair shop claims to have 'Apple Watch 2' parts, exposes display, battery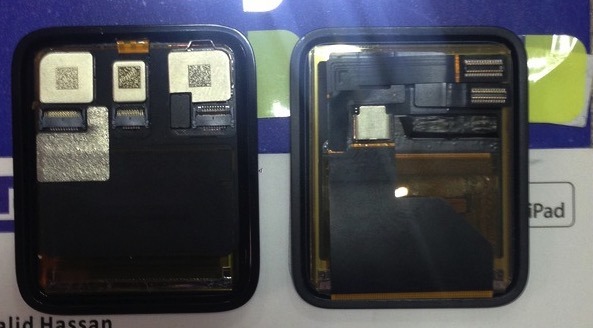 AppleInsider is supported by its audience and may earn commission as an Amazon Associate and affiliate partner on qualifying purchases. These affiliate partnerships do not influence our editorial content.
A questionable source has materialized claiming to have pieces of the new "Apple Watch 2," including a Force Touch gasket, a revamped screen assembly, and a larger battery.
The newly-launched Byte.co.uk repair venue posted a video and a series of still images on Thursday, comparing the existing Apple Watch to the alleged second-generation hardware.
The video doesn't address the purported "Apple Watch 2" parts until 3 minutes and 40 seconds in. The presenter notes a difference in the thickness of the digitzer, the new model being thinner and having a slightly smaller bezel.
The chipset layout between the presented screen assemblies is dramatically different. The alleged "Apple Watch 2" is once again thinner, and has an additional chipset apparent in the LCD and digitizer unit.
The Force Touch gasket appears to have another new chipset, with a layout once again altered from the first-generation Watch.
The new battery is noted to be significantly larger in both size and capacity, rated at 1.28 watt-hours versus the earlier 0.94 watt-hours.
The battery notably conforms with a previous leak, which is the only reference point to judge the validity of the Byte content.
The presenter promises future teardowns for the unknown chips. Information on the "Apple Watch 2" ends at around the 8 minute mark, with the remainder of the presentation discussing the company that obtained the parts.
The site hosting the data has very little content other than the "Apple Watch 2" material.
Apple may release two new Apple Watches at its Sept. 7 event — one expected to be a minor update, the other a true "Apple Watch 2" with GPS, a barometer, and a boosted battery.