Questionable Vietnamese leak claims 'iPhone 7' will ditch Space Gray color, record 60fps 4K video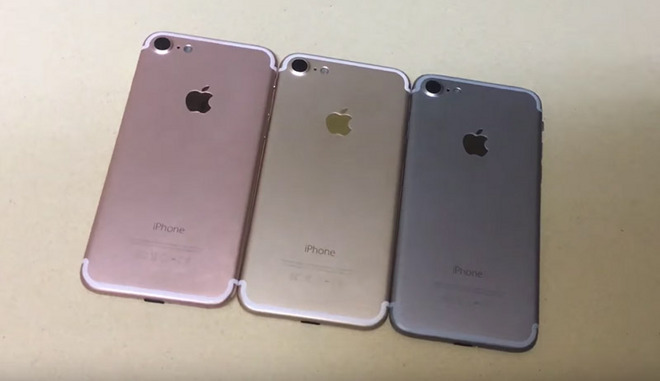 AppleInsider may earn an affiliate commission on purchases made through links on our site.
The "iPhone 7" will, among other things, drop Space Gray from the range of iPhone colors, and shoot 4K video at 60 frames per second, a Vietnamese tech site said, claiming to have had hands-on time with a fully-functional 4.7-inch model.
The site, Tinhte.vn, didn't offer any photos or video to back its report, but indicated that black will replace Space Gray, something potentially consistent with recent rumors. It also mentioned that a black unit it held was prone to picking up fingerprints, suggesting the glossy "piano black" noted by Twitter source The Malignant.
Shooting at 60 frames per second would significantly smooth out 4K video, doubling the 30fps limit for that resolution on the iPhone 6s. The result would also consume more storage space, however, which may partly explain Apple's expected doubling of capacity for iPhones to 32, 128, and 256 gigabytes.
Tinhte.vn also supported the claim that Apple is switching to a Force Touch home button with haptic feedback. Users will allegedly have to use a basic amount of pressure to get the button to respond, preventing people from accidentally waking their phone or jumping back to the iOS homescreen.
The SIM tray on the device is said to have a rubber seal, which would be consistent with reports that Apple is bolstering water resistance, even if the phone may not be fully waterproof like some of its rivals.
Apple is set to announce the "iPhone 7" and "iPhone 7 Plus" at a San Francisco press event on Wednesday, at 10 a.m. Pacific time. AppleInsider will be there to provide live coverage.