Apple debuts $159 AirPods wireless earbuds with W1 wireless chip, 5 hours of battery life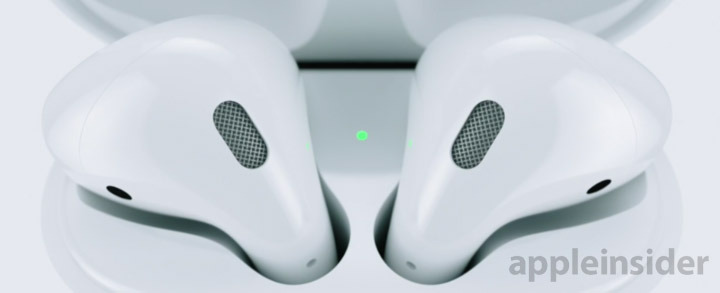 As rumored, Apple at its special event on Wednesday introduced a wireless headphones called AirPods, which come packed with advanced technology like a custom wireless chip, beam-forming microphones, accelerometers, infrared sensors and more.
Debuted onstage by Apple SVP of Worldwide Marketing Phil Schiller, AirPods look like a pair of EarPods minus the cable promises. Inside is Apple's custom W1 wireless chip, which affords a fast and robust connection while keeping efficiency good for five hours of use.
To help save on power, AirPods can sense when they are inserted into a user's ears thanks to embedded infrared sensors, turning the device on and off when needed.
Sound performance should also be top notch with beam-forming speakers that work with accelerometers that detect vibrations in a user's skull to minimize background noise. The motion sensors are also used to activate Siri by double-tapping on either AirPod.
Like other wireless earbud designs, AirPods come with a carrying case that doubles as a recharging station with a battery good for 24 hours of listening. Popping AirPods in their case for 15 minutes yields more than 3 hours of up time, according to Apple. Opening the case top triggers a pairing operation that connects to iPhone, Apple Watch and, thanks to iCloud syncing, other devices linked to a user's Apple account.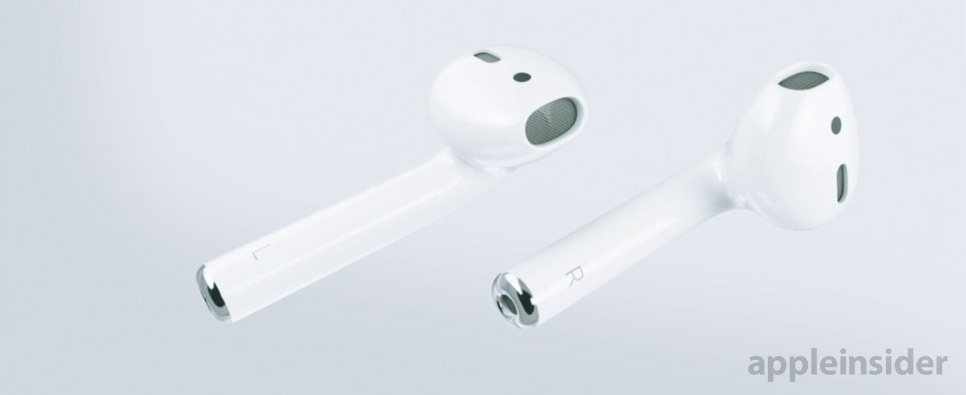 AirPods ship in October for $159.