iPhone 7 & 7 Plus have bigger batteries than iPhone 6s line, specs show

AppleInsider may earn an affiliate commission on purchases made through links on our site.
The 4.7-inch iPhone 7 features a 1,960 milliamp-hour battery, while the 5.5-inch iPhone 7 Plus includes a 2,900 milliamp-hour supply — both significant increases over their predecessors, a report noted on Monday.
The specifications were published by Chinese certification agency TENAA, according to iPhone7.nl. Apple avoids marketing hard data on the batteries in its mobile devices, preferring instead to concentrate on how many hours a product should run under specific activities.
The iPhone 6s and 6s Plus by contrast feature 1,715 and 2,750 milliamp-hour batteries.
Longevity has been a regular complaint about iPhones and smartphones in general, since few are designed to last more than a day in regular usage. The iPhone 6s often needs to be charged twice a day, once mid-day and again overnight. The 6s Plus can run for over 24 hours under normal conditions.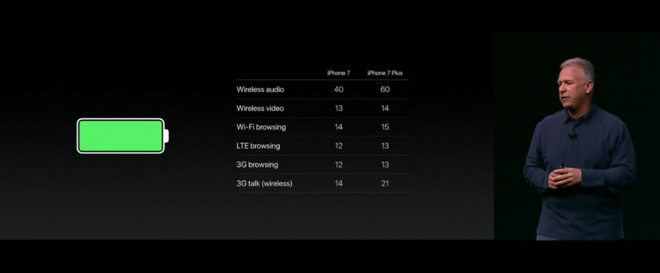 At last Wednesday's press event, Apple promised that its new iPhones have the "longest battery life ever in an iPhone," thanks partly to quad-core A10 processors. Two low-power cores take over on less intense tasks, reducing power consumption.