Apple's Swift Playgrounds sandbox for programming education now available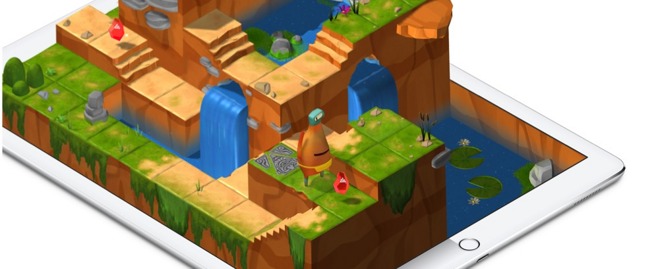 AppleInsider may earn an affiliate commission on purchases made through links on our site.
Apple has made Swift Playgrounds available for download, and provides a way to teach beginners and children how to code on its Swift programming language on the iPad.
Swift Playgrounds includes Apple-developed programming lessons that guide students through an assortment of puzzles to guide characters through an immersive graphical world as they learn core coding concepts. Apple is planning on periodically releasing new standalone challenges to the app so users can continue developing programming skills.
In an onstage demonstration at the 2016 WWDC, Apple showed how users could move a character and pick up gems in a simplified way to teach the basics of code.
Users start out by learning the important concepts needed to understand code. Lessons progress over time, ultimately allowing users to import and export directly between Swift Playground on iOS to Xcode on macOS Sierra. Stand-alone apps outside the aegis of Swift Playgrounds lessons cannot be created on the iPad, and must be exported to Xcode for compilation.
"Everyone should have the opportunity to learn coding, and we are excited to bring Swift Playgrounds to the next generation of programmers looking for a fun and easy way to explore key coding concepts using real code," said Craig Federighi, Apple's senior vice president of Software Engineering. "More than 100 schools around the world have already committed to adding Swift Playgrounds to their fall curriculum, and we can't wait to see what students create with it."
Apple first introduced its new Swift programing language at WWDC 2014, building upon groundwork invested in the company's development tools ranging from its LLVM compiler to its Cocoa and Foundation frameworks.
Swift Playgrounds is available today on the App Store for free. Swift Playgrounds is compatible with all iPad Air and iPad Pro models and iPad mini 2 and later running iOS 10.