Tim Cook says AR, VR are 'really cool' and have garnered Apple's interest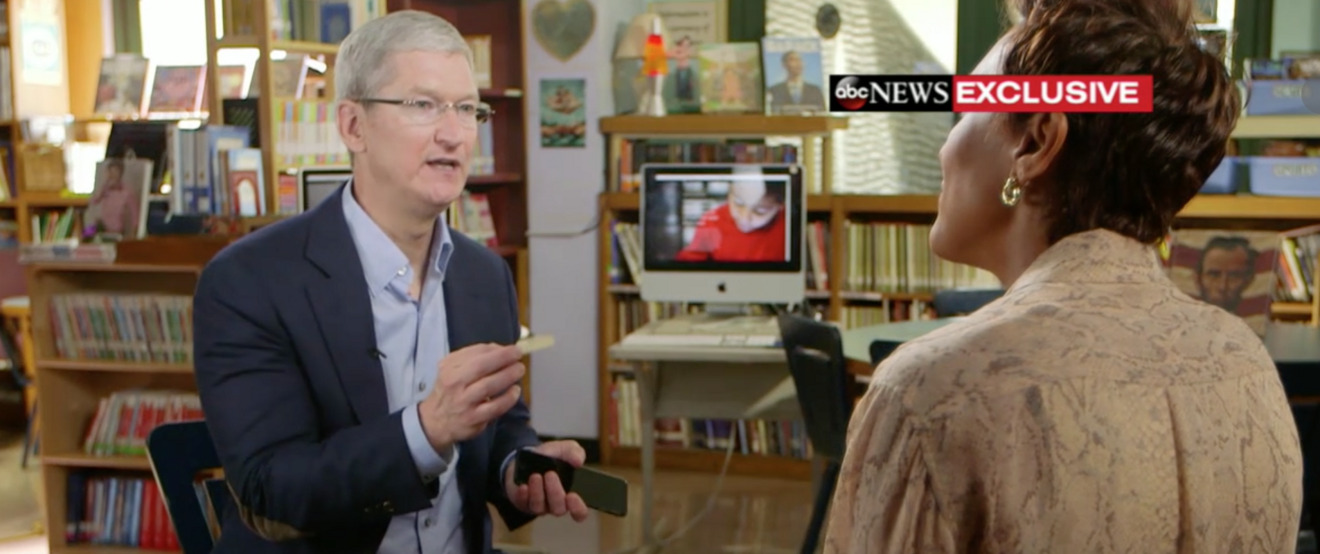 In an interview with ABC News' Robin Roberts, Apple CEO Tim Cook made comments suggesting that augmented reality would be a future focus for Apple. He also defended complaints of easy AirPod loss, and discussed iPhone 7 design decisions.
"There's virtual reality and there's augmented reality — both of these are incredibly interesting," Cook said in the interview. "But my own view is that augmented reality is the larger of the two, probably by far."
Cook briefly discussed the differences between the two technologies with augmented reality being more social, with virtual reality forcing an immersive experience, and not easily shared with others.
"Augmented reality gives the capability for both of us to sit and be very present, talking to each other, but also have other things — visually — for both of us to see," said Cook. "Maybe it's something we're talking about, maybe it's someone else here who's not here present but who can be made to appear to be present."
"When you decide on what the future is, you want to get there as soon as you can" — Apple CEO Tim Cook
While Cook was clearly more enthused about the commercial potential of augmented reality over virtual reality, Cook did not dismiss the possibility of VR being an option for the company to pursue in the future.
"There's some really cool areas there for education and gaming that we have a lot of interest in," Cook said of VR.
Cook has previously commented on the potential of augmented reality for Apple in the long run.
During Apple's January's quarterly report question and answer session, Cook said that VR was "cool" and noted that he didn't think it was a niche, but at the time he had little to say about its future at Apple.
"AR can be really great," Cook said. "We have been and continue to invest a lot in this. We are high on AR for the long run, we think there's great things for customers and a great commercial opportunity. So we're investing."
In a Washington Post interview in August, Cook said that "I think AR is extremely interesting and sort of a core technology," adding that "it's something we're doing a lot of things on behind that curtain."
Cook on the iPhone 7 headphone jack decision
Cook clarified Apple's decision-making process on removing the headphone jack during the interview, glossing over Roberts' mention of "courage" as cited during the Sept. 7 release event.
"When you decide on what the future is, you want to get there as soon as you can," Cook said, regarding the decision to remove the headphone jack. "Now why is that important for the consumer? Well, that plug, that jack takes up a lot of space in the phone. And there's a lot of more important things we can provide for the consumer than that jack."
"The iPhone 7 is the best iPhone we've ever created," Cook added. "The performance of the iPhone is killer."
ABC had already released pieces of the interview on Tuesday. In that segment, Cook defended against accusations that the AirPods would be easy to dislodge and lose while in-use.
"I've been on treadmills, walking, doing all the things you normally do," Cook said. "You know how you walk around with the earbuds and they're constantly getting caught on something? You never have that problem."