Apple's solid-state iPhone 7 haptic Home button requires a new hard reset trick: Down+Wake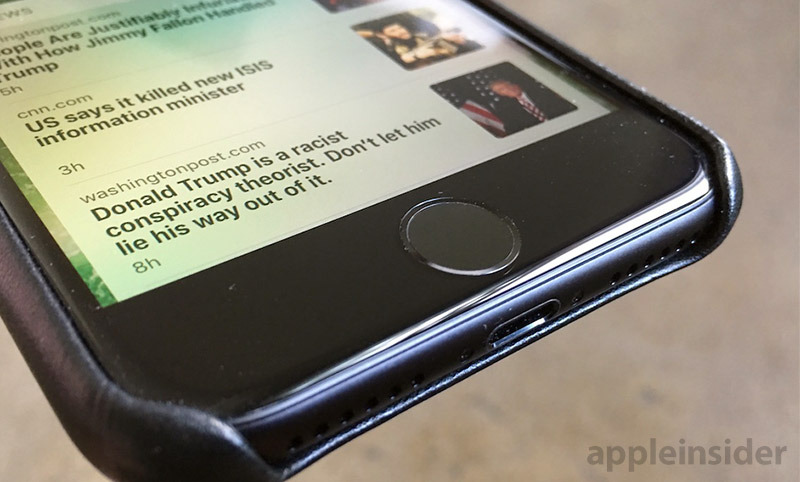 Apple's new iPhone 7 models introduce a new solid-state (non-mechanical) Home button which no longer physically depresses but instead is a software-driven sensor. That necessitates a new physical button sequence to hard-reset the device if it stops responding; that happens to be holding the Volume Down and Wake buttons for five seconds.

iPhone 7's Home button looks the same, but uses an entirely new, solid-state design
Performing a hard reset should be a last resort when troubleshooting, as it is equivalent to unplugging the device and could potentially result in lost or corrupted data. However, if the entire OS becomes unresponsive, there may be no remaining way to tell the locked up software to gracefully restart itself.
Historically, an unresponsive iOS device could be force-quit by holding down the Wake and Home buttons, but on iPhone 7 and iPhone 7 Plus, the Home button is no longer a physical hardware button. Instead, it's a flat sensor that solely responds to capitative touch while imaging fingerprint patterns, both of which are purely controlled in software by the operating system.
That means the iPhone 7 Home button, just like the 3D Touch display, can only be triggered by a finger and not by physical pressure from a non-capacitative object.
Capacitive gloves and specialized stylus devices that work on an iPhone screen may work (both emulate the characteristics of a finger), but the lack of a physical pressure sensor means that gloved hands or inanimate objects like Homer Simpsons' dialing wand won't trigger a response from either the display or the Home button.
The new iPhones also differ from Apple's recently introduced iPad Pro models in that their displays (like the new Home button) lack a physical pressure-sensitive layer, meaning they will not work Apple Pencil.
Just one word. Are you listening? Haptics!
Behind the iPhone 7 Home button is Apple's Taptic Engine, which is now both greatly enlarged over the previous year's design (as shown below in the iFixit teardown), and enhanced to provide much more accurate and precise patterns of rumbling vibration feedback, referred to haptics.
"Taptic" is Apple's trademark for the concept of fusing capacitive finger taps and haptic feedback to create a synthetic experience that emulates interaction with a physical device.
The new Taptic Engine on iPhone 7 not only eliminates moving parts of the Home button, but also takes up space formerly devoted to an analog audio jack, meaning that it plays a central role in enabling Apple to achieve a new high water mark in fluid and dust intrusion resistance. iPhone 7 models are now rated as IP67, meaning they are certified to withstand brief immersion and wet environments.
The Taptic Engine is broadly tasked with providing haptic feedback for system controls and interactions, including subtle vibration feedback for the Home button, as well as for 3D Touch events triggered on the display area.
During the setup process, iPhone 7 users are promoted to pick a preferred level of haptic intensity for the Home button from three different levels. This setting (shown below) can be changed at any time in Settings under General / Home Button.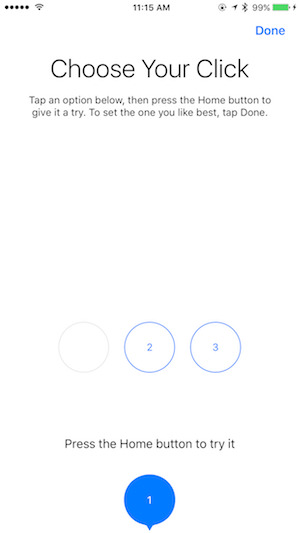 Haptics on iPhone 7 work similarly to their implementation on Apple Watch, where micro vibrations provide a variety of discreet feedback sensations as an alternative to audibly beeping or flashing lights.
The new phones' Home button is also similar to the solid state Force Touch trackpad Apple introduced for the Retina MacBook, which conserves space and eliminates a source of mechanical failures by substituting a physical button with a sensor tied to haptic sensations that express the illusion of clicking.
Apple has also exposed a new haptic API exclusively for developers targeting the new hardware on iPhone 7, enabling them to incorporate haptic feedback into their own apps. Several third party apps have already taken advantage of this to provide rumble feedback in games and other novel examples of non-auditory vibration feedback in their third party apps.
Somewhat surprisingly, Apple hasn't yet actively started promoting App Store titles that make novel use of iPhone 7's Taptic Engine, the way it calls at least some attention to apps that support technologies such as Game Center, Siri, 3D Touch and new iMessage apps and Stickers.