Apple patents Apple Watch Series 2 water expulsion tech, smart straps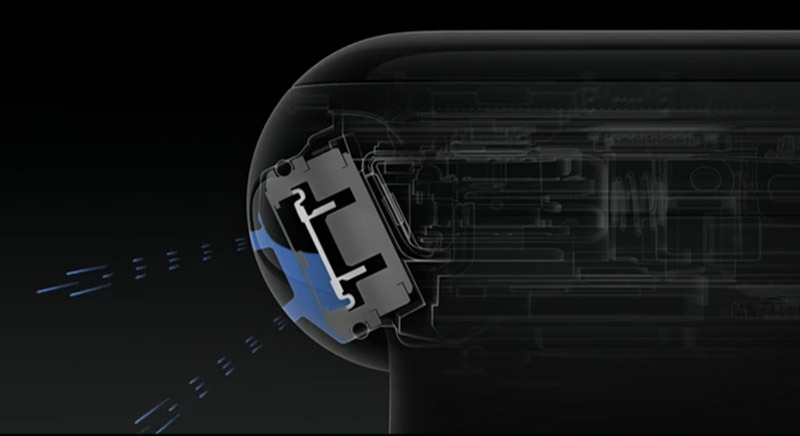 AppleInsider is supported by its audience and may earn commission as an Amazon Associate and affiliate partner on qualifying purchases. These affiliate partnerships do not influence our editorial content.
Apple on Tuesday was granted a pair of patents relating to current and potential future Apple Watch hardware applications, one of which details the unique liquid expulsion via speaker feature debuted with Apple Watch Series 2.
When Apple unveiled its Apple Watch Series 2 onstage at a special event earlier this month, those in covering the launch more or less knew what to expect from the refreshed device. Apple was, however, able to pitch a "wow" feature in a specially designed speaker system capable of expelling water after a swim.
Technically an upgrade on original Watch internals, the new system allows swimmers to eject residual liquid trapped in the open speaker port by pulsing a voice coil motor (playing a prerecorded sound). In typical Apple fashion, the system uses existing components and clever design to solve a common problem.
Now the specialized technology is protected IP, as the U.S. Patent and Trademark Office granted Apple's IP for "Liquid expulsion from an orifice" patent in full.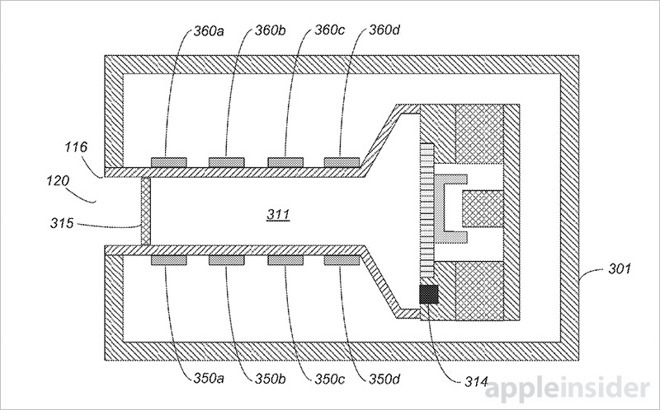 As AppleInsider noted upon first discovering the patent last year, the invention describes a method by which water, or any other liquid, is transported out of an acoustic chamber.
Leveraging hydrophobic properties of conductive elements disposed within the cavity — a speaker or microphone chamber — and varying their respective surface charges, the system creates an environment suitable for selective liquid control. Modulating a conductive element's surface charge between positive, neutral and negative modifies that particular region's hydrophobicity, meaning an electrode can be configured to attract or repel liquid.
Buried deeper in the document are passages relating to liquid evacuation through powering of the device's speaker drivers. In such cases, water and other standing liquids are forced out of the speaker chamber by outputting energy pulses, or sound waves, that propagate through the acoustic channel.
Whether or not Apple is also using hydrophobic conductive elements to in water evacuation is unclear, though the company does utilize the invention's speaker driver contingency in Apple Watch Series 2.
Apple's liquid expulsion patent application was first filed for in May 2014 and credits Stephen P. Zadesky, Fletcher R. Rothkopf and Ashley E. Fletcher as its inventors.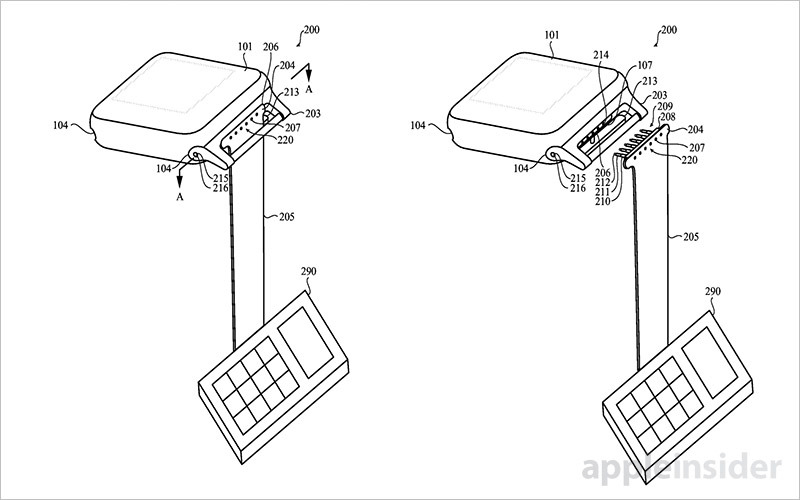 Apple second patent grant deals with another Apple Watch hardware feature that has so far gone unused, at least in consumer facing applications. The company's "Portable electronic device connector" patent describes a method by which Apple Watch's utility can be expanded through a diagnostics port found under one of the strap lugs.
Evidence of the unannounced diagnostics port was discovered before the original Apple Watch hit store shelves last year, leading some to speculate Apple had plans to market a new class of functional accessories. With six contacts hidden beneath a nondescript sliver of aluminum, the port was thought to support both power and data transfer, paving the way for rumors of so-called "smart straps" with embedded battery extenders, GPS radios, cellular modems and more.
Months later, Apple confirming the port's capabilities when it introduced interactive Watch displays at its retail outlets. Each pedestal features a Watch connected to an iPad mini via a custom Lightning-to-diagnostics port adapter.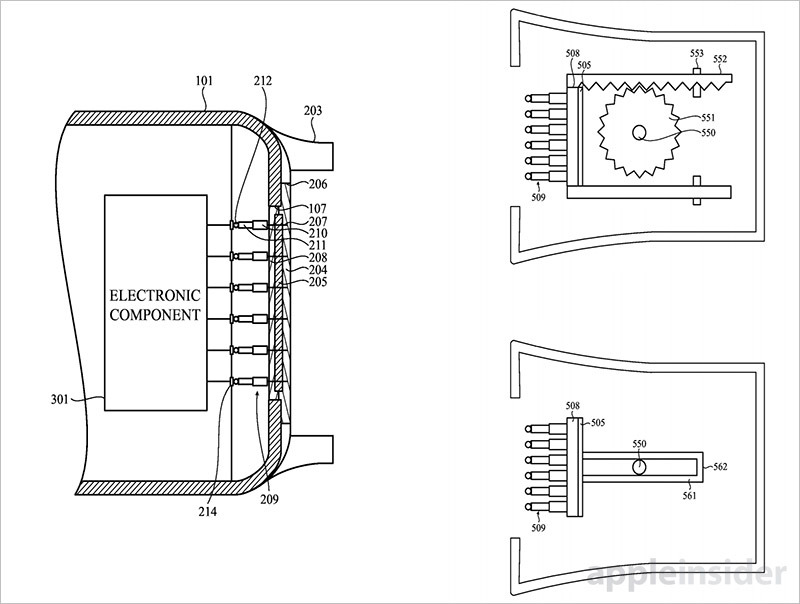 As for today's patent grant, Apple details potential strap-based smart accessories that connect to a Watch base unit via a set of retractable six-pin connectors. Apple has yet to introduce first-party straps with embedded electric components, though it appears the company is at least investigating potential options that could launch alongside future device iterations.
Apple's "Portable electronic device connector" application was filed for in May 2015 and credits Brandon B. Tulloch, Gordon C. Cameron, John Danby; Amaury J. Heresztyn and Nagarajan Kalyanasundaram are credited as inventors.