Future watch: new Ethernet standard to bring 2.5 and 5 Gbit/sec speeds to existing cabling

AppleInsider is supported by its audience and may earn commission as an Amazon Associate and affiliate partner on qualifying purchases. These affiliate partnerships do not influence our editorial content.
The group responsible for the Ethernet specifications have unveiled a new pair of standards, bringing faster speeds to existing Cat-5e and Cat-6 cable runs, eliminating networking bottlenecks, and potentially saving organizations with large deployments a great deal of money.
The Ethernet Alliance has announced that the new 802.3bz standard, also called NBase-T, that brings 2.5 Gbit/sec and 5 Gbit/sec speeds to older cabling has been ratified by the Institute of Electrical and Electronics Engineers (IEEE).
"The Cat5e and Cat6 installed in just the last 15 years now exceeds an estimated 70 billion meters of cabling," said Cisco Vice President of Product Management Sachin Gupta about the ratification. "It is easy to imagine the value of delivering multi-gigabit speeds to the more than 1.3 billion Cat 5e/6 outlets worldwide if it doesn't require the huge head-ache and expense of a major cable replacement."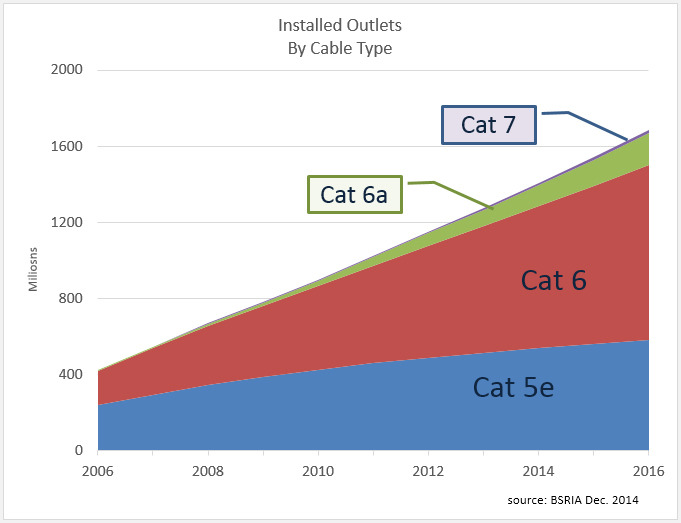 The technology to implement faster speeds in existing cable goes hand-in-hand with the initial deployment of 802.11ac wave 2 technologies in June, which is already starting to demand higher bitrates from mostly wired networking backbones. To feed the high-capacity switches, organizations could rip out the older cabling, and replace it with fiber optics or much higher grade copper cabling for 10 Gbit/second speeds, at $500 or more per network "drop" not including expenses for downtime, or planning costs.
Cisco notes that in enterprise deployments supplying "bandwidth hungry smart phones," the bottleneck isn't from the networking hardware like switches and access points, but the in-wall cabling. Existing hardware can handle 3-5 Gbit/second speeds, but Cat-6 cabling, or Gigabit Ethernet cabling, is capable of only 1 Gbit/sec.
Enterprise hardware exists now for the faster speeds. Consumer-grade hardware isn't likely to need the faster speeds for the time being, but gear for public access points at gathering places like coffee shops and other small businesses is now available.
The Apple connection
As of yet, no Apple gear supports 802.11ac wave 2 with multi-user MIMO access which will ultimately force the shift to the new protocol. However, inclusion in iOS devices is just a matter of time.
The easiest way to retrofit the faster networking speeds of macOS or other computing equipment currently on the market is through a USB 3.0 or 3.1 adapter, or through a Thunderbolt bridge. Intel already has a chipset that is capable of the speed, can deal with the new protocol, and demands little power.
Apple's iPhone and iPad are the prime movers of wireless internet traffic in U.S. enterprise, both from a "bring your own device" standpoint, as well as from a casual consumer access point demand point of view.
Even with Apple's predilection for wireless technologies, to say that Apple users need not concern themselves with fast wired networking is short-sighted.