Apple starts sales of SIM-free iPhone 7, 7 Plus handsets in US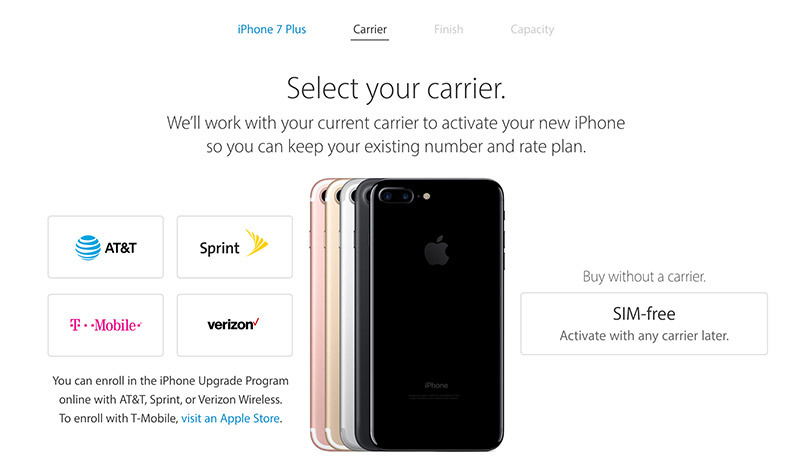 Like clockwork, Apple started sales of factory unlocked SIM-free iPhone 7 and 7 Plus handsets on Thursday, nearly one month after the smartphones launched in September.
As noted by Apple, "SIM-free" iPhone 7 models are not associated with any single carrier, and thus do not include the usual carrier-specific SIM card. Purchasing a SIM-free version — only available through Apple.com and the company's retail stores — gives users the added flexibility of applying a SIM card from any supporting carrier.
Base prices for both SIM-free handsets are the same as those for units tied to U.S. telcos, with iPhone 7 models starting at $649 for 32GB of storage, $749 for 128GB and $849 for 256GB. Larger iPhone 7 Plus models start at $769 for the 32GB tier, then move up to $869 and $969 for 128GB and 256GB of storage, respectively.
Like their SIM-toting counterparts, black, silver, gold and rose gold iPhone 7 models are showing delivery dates between Oct. 17 and Oct. 19. The Jet Black version is still backordered and ships in 3 to 5 weeks. As for the iPhone 7 Plus iteration, all models save for the Jet Black option ship in 3 to 4 weeks. Orders for SIM-free versions of the high-gloss, high-demand Jet Black iPhone 7 Plus ship out in 6 to 8 weeks.
Apple adds that SIM-free iPhone 7 units will work on a multitude of networks including those run by AT&T, Verizon, T-Mobile and Sprint in the U.S. The handsets appear to be an unlocked variants of models sold through Verizon and Sprint, as they work on both CDMA and GSM networks. International roaming support is also offered thanks to iPhone's multi-band LTE radio; a full list of supported networks categorized by country can be found on Apple's website