Apple claims huge swaths of 'genuine' accessories on Amazon are counterfeit in new lawsuit [u]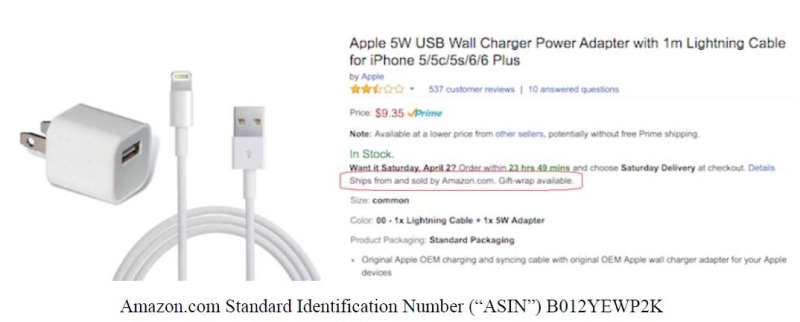 AppleInsider is supported by its audience and may earn commission as an Amazon Associate and affiliate partner on qualifying purchases. These affiliate partnerships do not influence our editorial content.
Apple has filed a lawsuit against a vendor called Mobile Star, accusing it of violating copyrights and trademarks by selling counterfeit accessories on Amazon and Groupon. Coincidentally, the iPhone maker claimed that a large chunk of supposedly genuine Apple accessories sold on Amazon are fake. [Updated with Amazon statement]
The suit specifically targets 5-watt USB power adapters and Lightning-to-USB cables sold by Mobile Star, according to court documents from the U.S. District Court for the Northner District of California, highlighted by Patently Apple. Apple argued that the products are not only counterfeit, but a potential safety hazard, since they have problems like inadequate insulation or too little spacing between low- and high-voltage circuits.
Apple said that it discovered the issue with Mobile Star's gear as part of its regular efforts to combat fake accessories. Notably, it made a specific claim that in the last nine months, it bought "well over 100 iPhone devices, Apple power products, and Lightning cables sold as genuine" through Amazon's "Fulfillment by Amazon" program, and found that almost 90 percent of them were inauthentic.
Although Apple earlier contacted Amazon and got Mobile Star's selling privileges revoked, it charges that Mobile Star is continuing to infringe, in fact selling 10 products to Apple through Groupon last December. More recently an Apple investigator was able to buy fake EarPods and Lightning cables via direct sale, even though Mobile Star had already been contacted by Apple about its activities.
As compensation Apple is asking for up to $2 million per infringed trademark, plus up to $150,000 for each violated copyright.
Update: Amazon provided the following statement to AppleInsider:
"Amazon has zero tolerance for the sale of counterfeits on our site. We work closely with manufacturers and brands, and pursue wrongdoers aggressively."