Apple makes slow pivot to India as China sales cool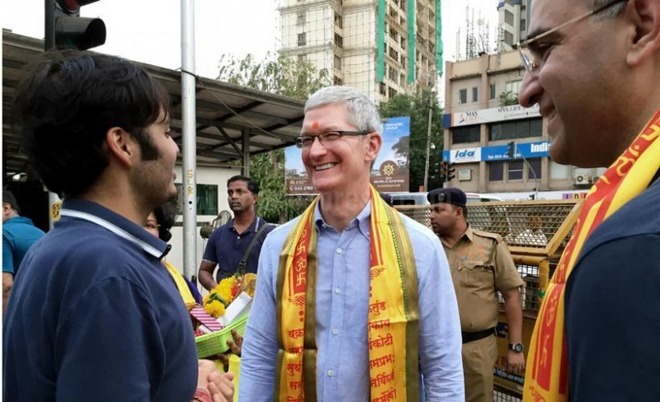 AppleInsider may earn an affiliate commission on purchases made through links on our site.
Once Apple's largest growth market, revenues from Greater China slid 30 percent during the fourth fiscal quarter of 2016, prompting the company to turn at least part of its focus toward prospects in India.
In announcing earnings on Tuesday, Apple revealed Greater China revenues of $8.8 billion, down 30 percent from $12.5 billion in the year ago quarter. And while the company saw negative year-over-year compares in the Americas and the Asia Pacific region, China was the only market to post a sequential decline from fiscal quarter three.
The negative results follow a similarly steep 33 percent dip in China revenue seen in the June quarter.
During an investor conference call, Apple CEO Tim Cook attributes the downward trend to a massive uptick in demand driven by the launch of iPhone 6 and 6 Plus in 2015. The large-screened iPhones spurred a surge of upgrades worldwide, but no region was more impacted than China.
Upgrade rates returned to normal in 2016, causing a different problem for Apple. The company boosted channel inventory in the first quarter of that year after incorrectly forecasting demand, forcing an inventory reset in subsequent quarters.
Still, Apple is confident the Chinese market will equalize, especially after an initially positive response to iPhone 7 and 7 Plus.
"We are very bullish on China," Cook said. "We continue to see a middle class that is booming there. There might be some sort of a new normal in the economy, but a new normal there is still a good growth rate."
That being said, Apple is making a slow pivot to India. At the top of today's conference call, Cook announced a partnership with Indian telco Reliance Jio, which is working to build out an all-IP 4G network in India that will bring coverage to 18,000 cities and 200,000 villages across the country. Further, Jio is offering a free year of service to iPhone buyers.
Fast, robust cellular networks are vital to iPhone's success. Like other smartphones, many iPhone features require internet connectivity, something not yet widely available in India. Cook, however, noted government investments into a working technical infrastructure are enabling consumer access to technology like iPhone.
"Our iPhone sales in India were up over 50 percent in fiscal 2016 compared to the prior year, and we believe we're just beginning to scratch the surface of this large and growing market opportunity," Cook said.
Responding to an analyst question, Cook noted almost half of all Indians are under the age of 25, and the already populous country is expected to swell beyond China in the next decade. India's GDP is on the way up, as well, though might not be a factor in iPhone's success.
"That's not critical for us to have a great success there," he said. "The truth is there's going to be a lot of people there and a lot of people in the middle class that will really want a smartphone, and I think we can compete well for some percentage of those. And Given our starting point, even though we've been growing a lot, there's a lot of headroom there in our mind. So, we're working very hard to realize that opportunity."