Ship times for new MacBook Pro models with Touch Bar fall to 4-5 weeks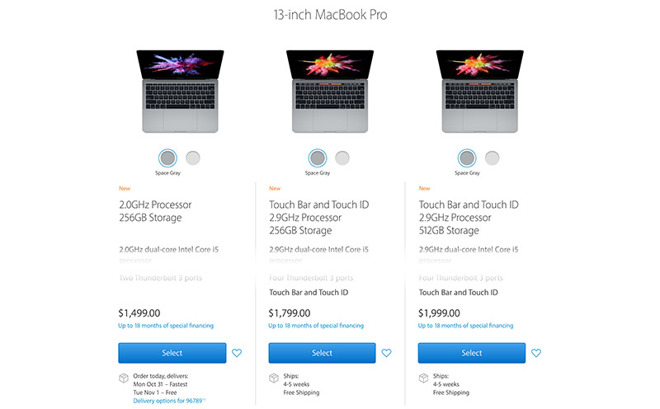 AppleInsider may earn an affiliate commission on purchases made through links on our site.
Demand for Apple's new MacBook Pro with Touch Bar is outstripping supply after less than 12 hours of availability, with all 13-inch models now showing expected ship times of four to five weeks.
Apple opened sales of its latest and greatest MacBook Pro lineup through its online storefront on Thursday at around 11:30 a.m. Pacific, a few minutes after Apple CEO Tim Cook and company wrapped up the "Hello Again" keynote event.
As announced by SVP of Worldwide Marketing Phil Schiller, the entry-level 13-inch MacBook Pro without Touch Bar integration (replaced by a row of standard function keys) started shipping yesterday, while the 13- and 15-inch MacBook Pros with Touch Bar and Touch ID were scheduled to ship out in two to three weeks.
Initial launch supply of both Touch Bar variants sold out after roughly six hours of availability, and demand for the hot notebooks has not let up. As of this writing, shipments of both silver and Space Gray 15-inch MacBook Pro with Touch Bar models are sitting at three to four weeks out. Interest appears to be even higher for the 13-inch version, which is now showing ship times pushed back to four to five weeks.
Along with the dynamic, configurable Touch Bar, top-end MacBook Pros also get Touch ID and four Thunderbolt 3 ports, with the 15-inch version adding discrete AMD GPUs. All new models, including the non-Touch Bar 13-inch iteration, feature a large Force Touch trackpad, high-resolution wide color gamut display and second-generation butterfly mechanism keys, all packed into a thin-and-light form factor.
Shipment times for the entry-level 13-inch MacBook Pro without Touch Bar capabilities are holding steady, and many Apple retail outlets show immediate availability of non-CTO configurations.