Apple SSD in Touch Bar-equipped MacBook Pro fixed to motherboard, not removable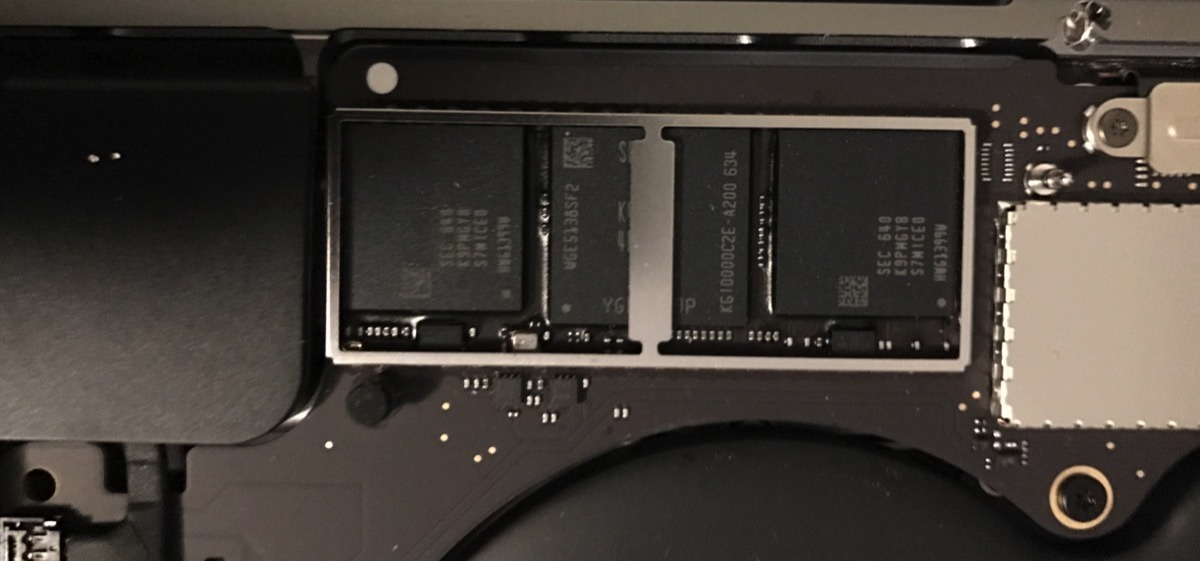 Recent examinations of the MacBook Pro with Touch Bar show that Apple has abandoned the socketed SSD as seen in the 13-inch MacBook Pro with Function Keys model.
According to a MacRumors reader who removed the back panel of his newly arrived 15-inch MacBook Pro, the SSD is surface mounted to the motherboard, with no apparent mounting allowing for easy removal or storage upgrades. This stands in contrast to the MacBook Pro 13-inch model without the Touch Bar, that clearly had a removable SSD.
The reasons for the change are unclear. There isn't a significant difference in storage speed, with other design choices made in the interior of the computer point, such as "finger-width" gaps between batteries" presumably to facilitate ventilation.
AppleInsider has contacted Apple regarding the static SSD mount, and has not as of yet received a response. Further tear-downs of the new MacBook Pro will hopefully shed more light on the situation.
The 2016 MacBook Pro family, announced Thursday, is a major redesign to Apple's flagship notebook, and comes in screen sizes of 13 and 15 inches, with core models starting at $1,799 and shipping now to early orderers. AppleInsider has examined in detail both the models with and without the Touch Bar.