Sylvania announces Bluetooth-connected Apple HomeKit lightbulbs that don't require a hub
Early next year, Sylvania will release a new multicolor HomeKit-enabled Bluetooth lightbulb, allowing users to control the lights in their home without the need for a separate hub.




Sylvania's LEDVANCE lineup will add a "Smart Multicolor A19" bulb that is easily controlled via Siri, as well as Apple's Home app included in iOS 10. All users will need to do is screw in the Bluetooth-enabled bulb, sync it with the Home app, and start controlling their lights.

Everything you need to know: Apple HomeKit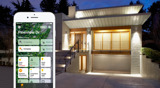 Apple's platform for home automation
Home App in iOS 10 streamlines HomeKit device setup, usage
Uses end-to-end encryption for security
More than 100 HomeKit compatible products available by end of 2016
For a complete list of HomeKit products and info see AppleInsider's HomeKit page.

Because the accessory is Bluetooth and not Wi-Fi, users will need either an Apple TV or a HomeKit hub iPad nearby at home to enable control while away from home.

Other products, most notably Philips Hue bulbs and Lutron light switches, require a HomeKit hub accessory to bridge their platforms over to Apple's smart home network.

With HomeKit support, Sylvania's new bulbs will not only be controlled by voice, but can also integrate into scenes and triggers with other HomeKit accessories from various third-party manufacturers.

Sylvania says its Smart Multicolor A19 bulb will be available on Amazon in the U.S. in early 2017. The company has also pledged to expand with new HomeKit products throughout 2017.

"For more than a century, consumers have looked to the brand SYLVANIA for innovation, and this announcement represents another exciting advancement," said Aaron Ganick, who heads up the Smart Home Americas group at LEDVANCE. "For us, making the Smart Home a reality for consumers is all about quality products and strong partnerships with leaders in the industry. By working with Apple to provide smart lighting that works directly with the Home app, we're making it easier for Apple enthusiasts to seamlessly integrate quality lighting into their Smart Home, bringing convenience and simplicity to their daily lives."

Apple announced in October that it expects to have more than 100 HomeKit-certified accessories available by the end of this year. Recently announced products include new Fibaro sensors and the iHome 5-in-1 Smart Monitor.