Kanex to debut portable Apple Watch charger that fits on keychain, standalone charging stand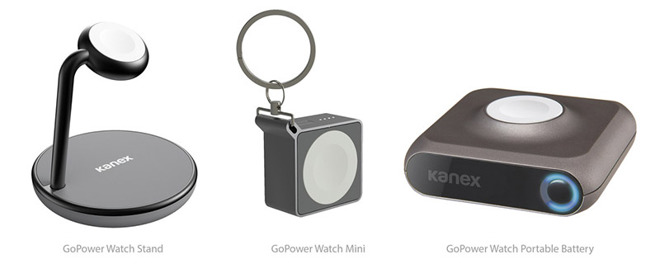 AppleInsider may earn an affiliate commission on purchases made through links on our site.
Third-party vendor Kanex plans to expand its GoPower Apple Watch accessory lineup at CES next year with a new ultra-portable charger small enough to be carried comfortably on a keyring and a self-contained charging stand.
When it debuts at CES in January, the GoPower Watch Mini promises to be one of the smallest and most portable Apple MFi certified Apple Watch chargers on the market.
Fitted into a chassis not much larger than Apple's magnetic inductive charging puck is a 1,000 mAh battery good for one full Apple Watch charge, a fuel gauge and built-in keychain loop for easy carry. Like wired chargers, the GoPower Watch Mini intelligently starts the charging process when its magnetic puck makes contact with an Apple Watch.
The Watch Mini will sell for $59.95 when it launches in February.
Kanex is also bringing its own charging stand to market for Watch owners who have yet to find a suitable dock among the plethora of designs already available from other manufacturers. Dubbed the GoPower Watch Stand, the charger is powered by an included DC adapter and features an extra USB port for simultaneously juicing up an iPhone or iPad.
The GoPower Watch Stand is priced at $79.95 and also goes on sale in February.
At launch, the two new products will join Kanex's initial Apple Watch offering, the GoPower Watch portable battery. Armed with a 4,000 mAh internal battery and the same magnetic inductive technology as Apple's first-party chargers, the portable pack is good for up to six full charges. It also features a USB port for recharging other devices.