Garmin refreshes Fenix smartwatch line, adds live iPhone traffic data to Drive systems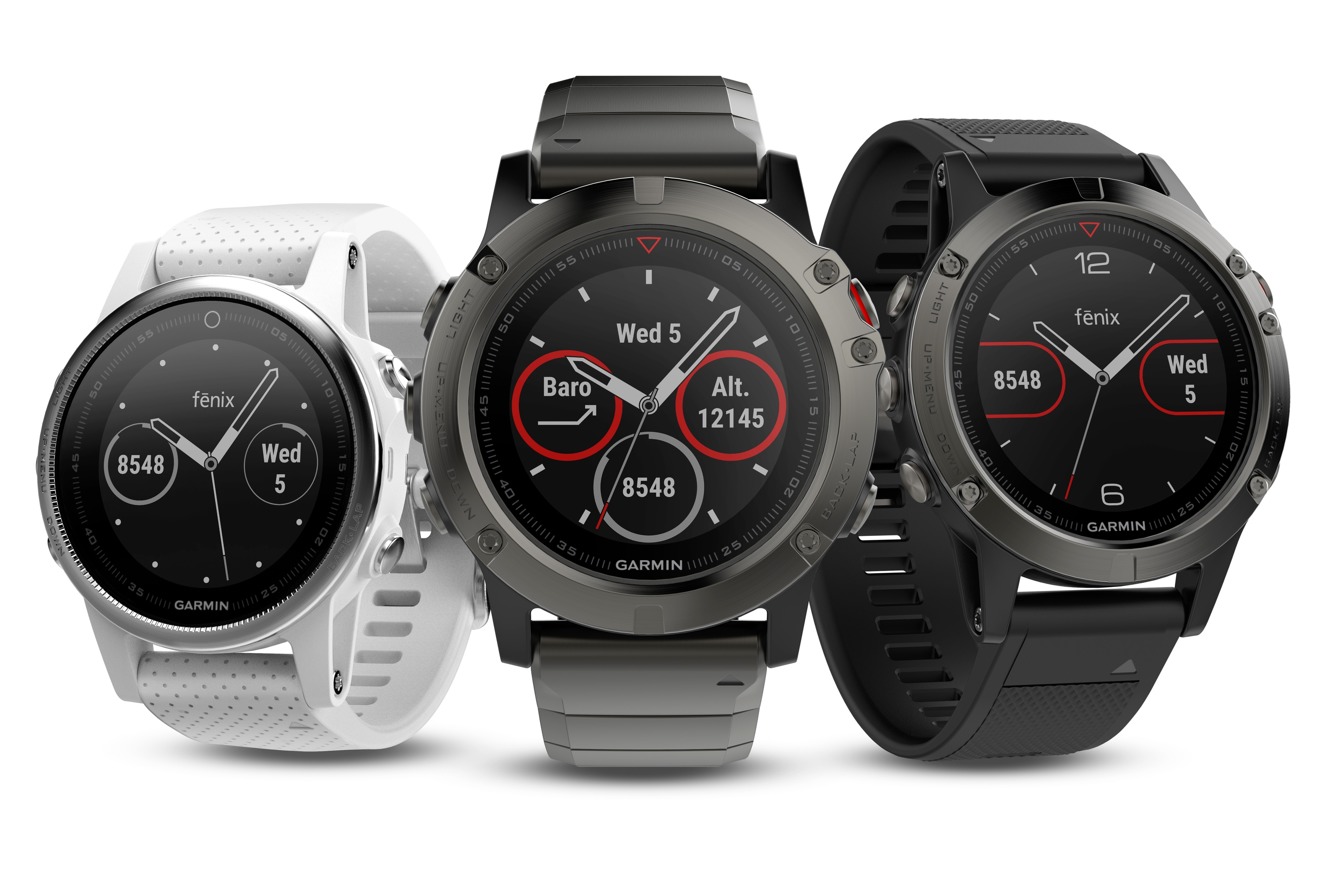 AppleInsider is supported by its audience and may earn commission as an Amazon Associate and affiliate partner on qualifying purchases. These affiliate partnerships do not influence our editorial content.
Fitness tracker Garmin has announced three more Apple Watch competitors in its Fenix smartwatch range, led by the Fenix 5 series, which giving users more size options to choose from.
Fenix 5, 5S 5X GPS smartwatches
Two of the three new Fenix 5 multisport GPS watches are lighter and more compact than earlier releases, with the 47mm Fenix 5 designed to be sleeker than the Fenix 3 HR, while the 42mm Fenix 5S is said to be aimed at women and those with smaller wrists.
The third model, the Fenix 5X, has the largest 51mm face and casing, but has some extra map-related features to go with its size. Preloaded with TOPO US mapping, routable cycling maps, and Round Trip Run and Ride modes, the Fenix 5X offers at-a-glance guidance for turns, and an Around Me map to show nearby points of interest.
The watches all include a three-axis compass, gyroscope, barometric altimeter, and GPS and GLONASS support. Water-rated to 100 meters, the watches have a stainless steel bezel, buttons, and rear case, with both the 5 and 5S including sapphire lens options, while the 5X will have the scratch-resistant lens by default.
All three models include features seen on earlier models, including tools for running, hiking, swimming, and cycling. Garmin Elevate can monitor the user's heart rate from the wrist 24 hours a day, with the watches also offering activity tracking that can be synchronized using the Garmin Connect app on a smartphone.
The Connect IQ store, which allows users to run apps on the watches, has some new additions on the way. Apps including Uber ETA, which allows users to see how long their booked Uber ride will take to arrive, as well as offerings from GU Energy Labs and Trek, will be joining new faces in the store in the near future.
Shipping in the first quarter, the Fenix 5 and 5S will cost $600, while the sapphire variants and the 5X will sell for $700.
Garmin Drive in-car navigation range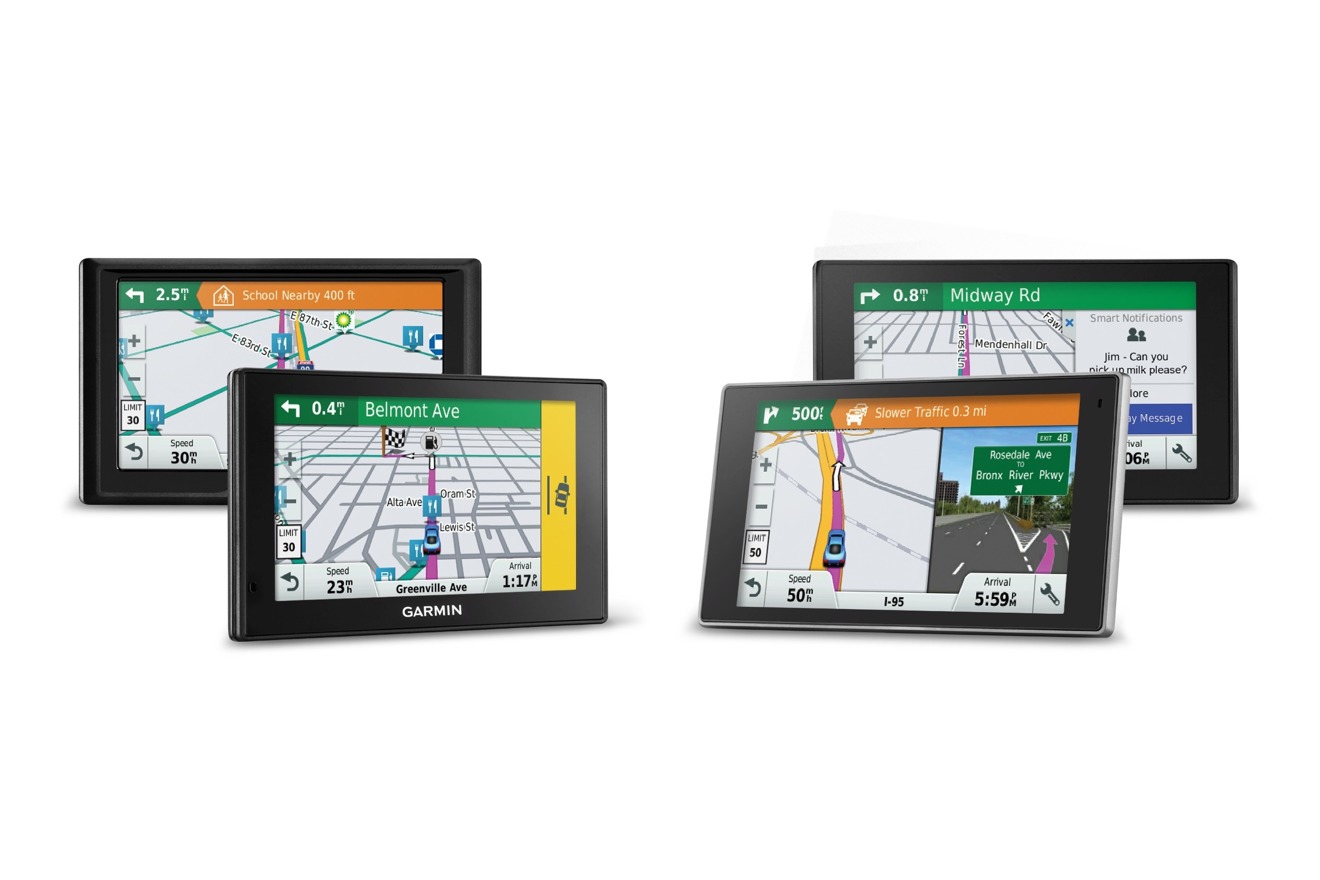 The Garmin Drive GPS range's major inclusion for this year is increased use of connected services. Using Bluetooth to connect to an iOS app, the navigation devices can offer live traffic updates, live parking data from Parkopedia, LiveTrack location sharing, and alerts for red light and speed cameras.
Each can also be paired with a Connect IQ-compatible Garmin smartwatch, to help find the destination after departing the vehicle, and to track where the car is parked.
The entry level Drive 51 and 61 models include 5-inch and 6-inch displays, and are preloaded with data from TripAdvisor. Offering 5-inch and 6.95-inch edge-to-edge displays, the Drive Smart 51 and 61 add in the ability to receive map and software updates when connected to a Wi-Fi network, hands-free calling, and app alerts.
A built-in dash cam is included with the Drive Assist 51, which can save video to a microSD card. As well as the Drive Smart-level features, this model's "Real Vision" feature can also use the camera to overlay navigation instructions on an image of the road ahead, can create timelapses of journeys, and can automatically send a text message of the vehicle's location in the event of an accident.
The Drive Luxe 51 offers the same feature set as the Drive Smart 51, but with a metal casing and a magnetic mounting system.
Shipping in February, the range will cost between $150 and $330.