iDevices' Instant Switch is a Bluetooth remote for HomeKit compatible appliances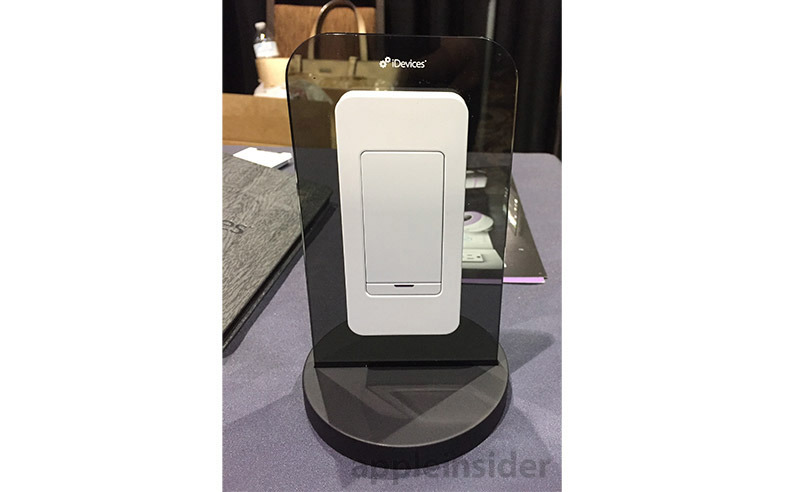 Adding to an already impressive ecosystem of connected home devices, iDevices on Tuesday debuted Instant Switch, a wall-mounted Bluetooth controller styled after traditional light switches.
A Bluetooth Smart device, Instant Switch pairs with and is able to remotely control iDevices' lineup of outlets, sockets, switches, dimmers and lighting products. Along with basic on/off capabilities, the switch integrates with smart home platforms including Apple's HomeKit, Android and Amazon's Alexa assistant for access to voice controls and macro profiles.
For iPhone owners, Instant Switch acts as a bridge between HomeKit and nearly all iDevices products — everything except for the company's smart thermostat. That means control via Siri and support for house-wide scenes.
The unique flat panel design allows Instant Switch to be mounted flush on a wall, offering the aesthetic appearance of a traditional residential electrical switch box cover. Alternatively, users can also replace any standard two-screw wall plate with the included iDevices plate and Command adhesive backing. A semi-permanent fixture, the switch's internal batteries boast a lifespan of two years.
When paired with a hard-wired iDevices Wall or Dimmer Switch, Instant Switch automatically creates a three-way configuration, which means a target appliance can be controlled from two switches. The remote control design allows for increased flexibility, with users able to add and duplicate switches for a variety of products at will.
Instant Switch will cost $49.95 when it launches in the middle of 2017.