Video shows early competing iPhone prototypes developed by Tony Fadell and Scott Forstall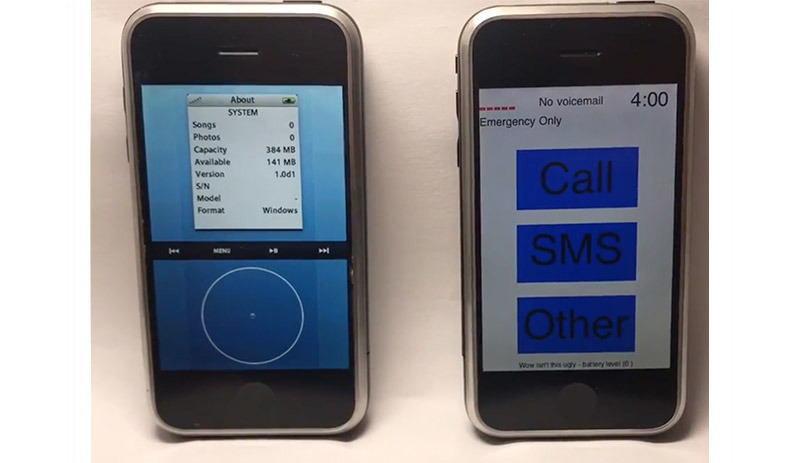 AppleInsider is supported by its audience and may earn commission as an Amazon Associate and affiliate partner on qualifying purchases. These affiliate partnerships do not influence our editorial content.
A video posted to the internet on Tuesday shows two very early iPhone prototypes running differing software versions of Apple's "Acorn OS," one developed by a team led by Tony Fadell and another by Scott Forstall's group.
The pair of rare handsets and their respective bare-bones operating systems are shown off in images and a video posted to the website of parts leaker Sonny Dickson. In the short clip, both prototypes boot up to an extremely limited feature set, which mostly consists of diagnostics tools and basic system information.
Explaining the hardware, Dickson notes Apple put two teams to work when creating the software that would ultimately power the original iPhone. The first device, designated "P1," ran software developed with the help of Tony Fadell, while a second "P2" variant was the brainchild of Scott Forstall.
While both models share an — extremely rough — original iPhone aesthetic and are powered by identical internal components, the underlying software is completely different.
As seen last week, Fadell's P1 version of Acorn bears a striking resemblance to the aqua-styled onscreen interfaces seen on iPods at the time. In fact, the P1 implements a digital representation of a scroll wheel to cycle through hierarchical system menus made famous by pre-iPhone OS iPod products.
By contrast, Forstall's P2 client software is a more fleshed out direct touch — ultimately multitouch — interface complete with icons and interactive onscreen graphical elements. While an obvious prototype, the P2 version seen below shares similarities with the "SwitchBoard" operating system Apple currently deploys to test iPhone prototypes.
The P1 and P2 hardware showcased today are just two of likely hundreds or even thousands of iterations, both hardware and software, that evolved through Apple's comprehensive prototyping process to become the iPhone.
Rumors swirling as late as December 2006, just a month shy of iPhone's unveiling at Macworld, suggested the finalized smartphone would adopt a virtual click wheel and other features native to Fadell's attempt. Despite rampant speculation, it was Forstall's vision of Acorn OS that ultimately became iPhone OS, the operating system now known as iOS.
Monday marked the 10th anniversary of late Apple cofounder Steve Jobs' presentation of the original iPhone in January 2007. For an inside look at how iPhone changed the trajectory of tech, and how it continues to shape our future, make sure to read AppleInsider's in-depth retrospective.