Apple updates Logic Pro X with Touch Bar support, GarageBand for iOS with new options & interface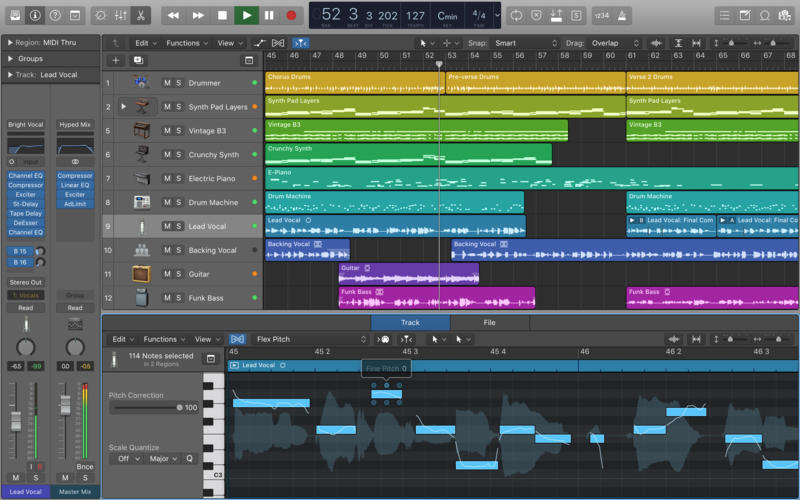 AppleInsider is supported by its audience and may earn commission as an Amazon Associate and affiliate partner on qualifying purchases. These affiliate partnerships do not influence our editorial content.
Apple on Wednesday released updates to two of its audio production apps — Logic Pro X for the Mac, and GarageBand on iOS — adding customizable Touch Bar support on the former, and features like a redesigned sound browser on the latter.
The Touch Bar support in Logic Pro X 10.3 lets users navigate projects in a timeline overview, and get quick access to volume and Smart Controls for tracks. Users can even play instruments including drum pads and a piano keyboard.
Other upgrades include a 64-bit summing engine, 192 extra busses, and full control over stereo panning. A feature called "Track Alternatives" lets people switch between playlists of regions and edits, making it possible to consider different creative branches. Selection-based processing, meanwhile, should let users combine any assortment of effects plug-ins and apply them to one or more regions.
Apple has also implemented two-way iCloud integration. A GarageBand-compatible version of a Logic project can be uploaded to iCloud, and later opened on an iOS device. Projects then saved back to iCloud will transfer any changes to the original Logic file.
The 10.3 update is free to existing Logic Pro X owners. New the softare costs $199.99, and requires OS X 10.11 or later.
GarageBand for iOS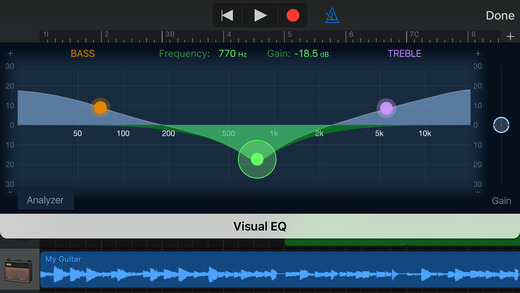 GarageBand's new sound browser is said to make it easier to find instruments and sounds. The company has also redesigned the Audio Recorder, giving it single-tap vocal effects, and processing options like pitch correction and delay. These even include a visual equalizer, and support for third-party AU (Audio Unit) effects.
Porting from Logic, Apple has also implemented support for Alchemy, a popular synthesizer which in its iOS form has 150 Apple-created patches.
Lastly users have access to Multi-Take Recording, which will record and save multiple takes of an instrument so that people can later pick a favorite.
GarageBand should be free to most users, new or as an update, but costs $4.99 otherwise. The latest version requires at least iOS 10.2.
"Music has always been part of Apple's DNA, and we are excited to deliver yet another fun and powerful update to our music creation apps, GarageBand for iOS and Logic Pro X," said Susan Prescott, Apple's vice president of Applications Product Marketing. "These updates bring a wide range of new and highly requested features to both hobbyists and the community of pro musicians and audio engineers who rely on our software and hardware to create amazing music."