iOS 10.3 beta enables calls on iCloud-connected devices for Verizon customers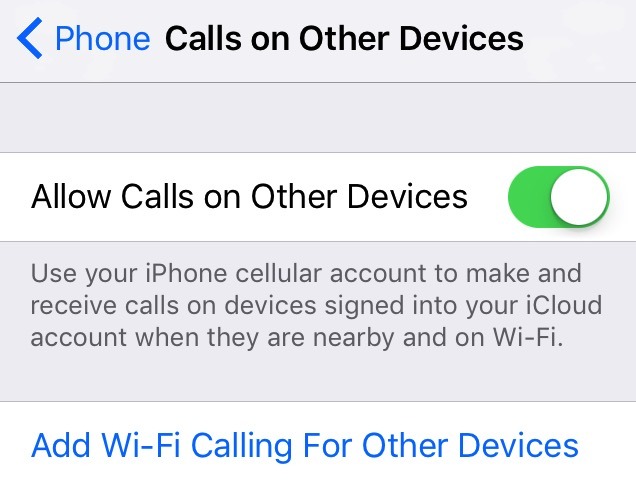 A small but significant addition for Verizon iPhone subscribers in the iOS 10.3 beta is the ability to make and answer calls from any iCloud-connected device, including Macs, iPads, iPods, and the Apple Watch.
The option, enabled through the "Calls on Other Devices" section of the Phone menu in the iOS Settings app, was highlighted in tips received by AppleInsider as well as MacRumors. Verizon is the last of the four major U.S. carriers to support the technology, which is also offered by some prepaid brands and a few international carriers.
Once the feature is active, users can toggle which devices are able to accept iCloud calls, routed through Wi-Fi. If configured properly the feature will work regardless of whether or not an iPhone is nearby or even on.
The first iOS 10.3 beta was issued to developers yesterday, and makes some other substantial changes including the switch to the Apple File System, the addition of a Find My AirPods app, and a better reviews infrastructure.
It's not clear when the finished version of iOS 10.3 will be ready, but as one of Apple's more important point releases, the company will likely seed at least four or five betas before wrapping up.