Apple Maps gets Houston transit data ahead of Super Bowl LI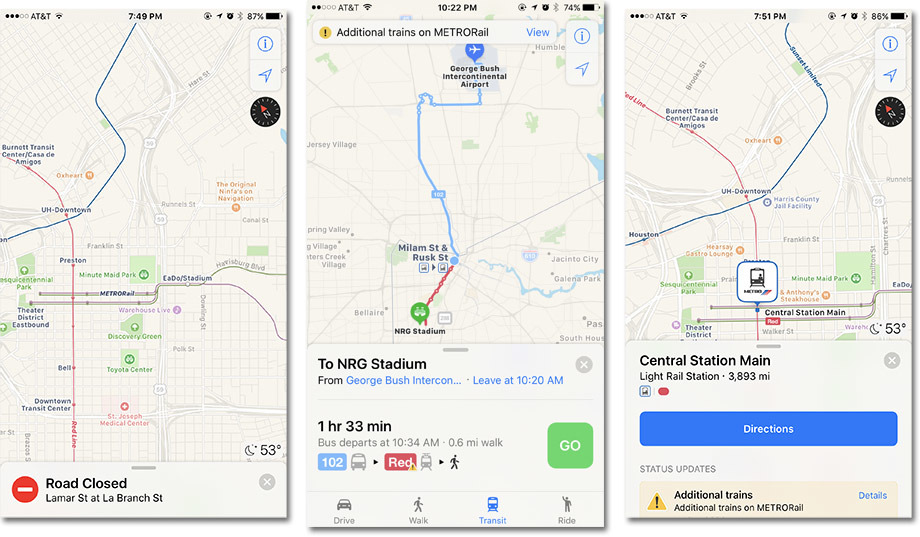 In time for Super Bowl LI, Apple on Sunday expanded Apple Maps transit data to include regional and metropolitan pubic transportation services in the Houston, Texas, area.
With Metro buses and Metro Rail data now live, iPhone users planning to attend next week's big game, as well as locals looking to avoid associated high traffic areas and potential road closures, will have in-app Maps access to transportation options beyond auto navigation and walking.
Houston is already making ready for Super Bowl festivities in and around the NRG Stadium area, and preparations during the week leading up to game day on Feb. 5 are expected to cause traffic jams. Metro rail services are picking up the slack by adding more trains to deal with the crush of travelers that will descend upon the city next weekend. The special Metro accommodations run from Jan. 28 to Feb. 5.
The Maps expansion arrives more than a month after a significant update in December that delivered mass transit data covering a number of previously unsupported locales in the UK. Apple brought Salt Lake City's transit data into the fold at around the same time.
Introduced as part of a major Maps revamp in iOS 9, Transit offers routes, departure times and other relevant data for buses, trains, ferries and other forms of public transportation. In addition to local schedules, users can access top-down views of select underground subway and train stations, a feature unique to Apple's service.
With the addition of Houston, Apple Maps Transit now supports 29 metropolitan areas in the U.S., including Atlanta, Austin, Baltimore, Boston, Chicago, Cincinnati, Cleveland, Columbus, Dallas, Denver, Ft. Worth, Honolulu, Kansas City, Los Angeles, Miami, New York City, Philadelphia, Pittsburgh, Portland (Oregon), Sacramento, San Antonio, San Jose, San Francisco, Salt Lake City, Seattle, and Washington D.C.
An international rollout is slow going, but Apple managed to build in launch support for hundreds of cities in China. Most recently, Japanese users gained access to Transit with iOS 10 late last year