See how Apple's 'Services' revenue has grown steadily amid changes in other business segments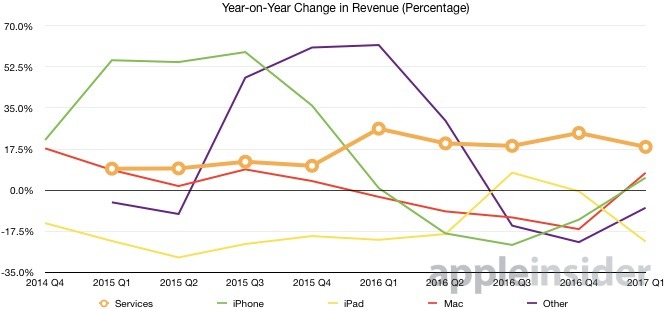 The encompassing "Services" business has proven to be a reliable source of income growth for Apple, but its tremendous performance — Â accomplished during an overall company sales decline — Â can be difficult to visualize. AppleInsider offers a closer look at the booming segment Apple believes will double over the next four years.
Apple announced this week that its Services arm generated $7.17 billion in revenue, beating the previous quarter's figure by 13 percent, as well as representing an 18-percent year-on-year growth.
Apple Chief Executive Tim Cook revealed during his company's earnings conference call that Services is on track to become the size of a Fortune 100 company by the end of the year.
The growth is also quite stable when compared against the growth rates of other parts of the company. AppleInsider's analysis of Apple quarterly reports shows the Services arm has consistently offered positive growth compared to the same quarter in the previous year, ranging between 9.1 percent and 26.2 percent over the last two years, ever since it became its own revenue category in the financial results.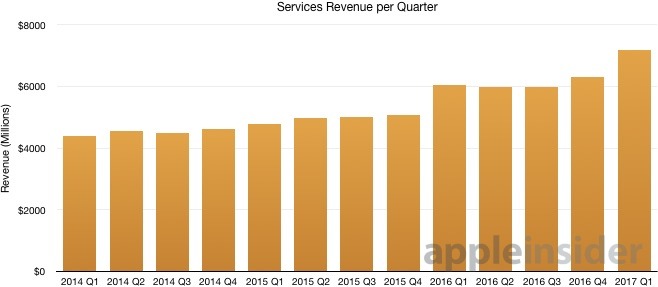 By comparison, the iPhone, iPad, Mac, and "Other" revenue categories have all drifted into negative year-on-year growth in the last two years, though in the case of the iPhone and "Other" groups, both have also demonstrated revenue growth exceeding 50 percent.
While Services seems to be steadily growing when put against its revenue levels of the year previously, a comparison of sequential quarters shows it does contract, but only by small amounts. Worse performance by Services compared to the previous quarter occurred in three of the last 12 quarters, though in each case revenue shrank by less than 2 percent.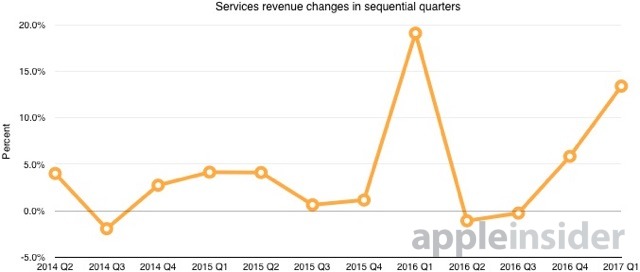 It is likely Apple will continue to see consistent growth in Services for quite some time, a belief shared by financial analysts. It is speculated revenue will grow 17 percent every year until 2021, with Ben Schachter of Macquarie Securities calling the App Store, a core component of Services, "one of the best business models ever created."
During the first quarter of fiscal year 2017, the App Store generated $3 billion in purchases in December, making it the store's best month to date, with AppleCare and storage services also setting new records. Apple Pay, also classified under Services, has seen user numbers triple in the last year, with a 500 percent year-on-year increase in transaction volume.