Fitbit's $23M Pebble purchase lower than expected, under financial pressure from Apple Watch success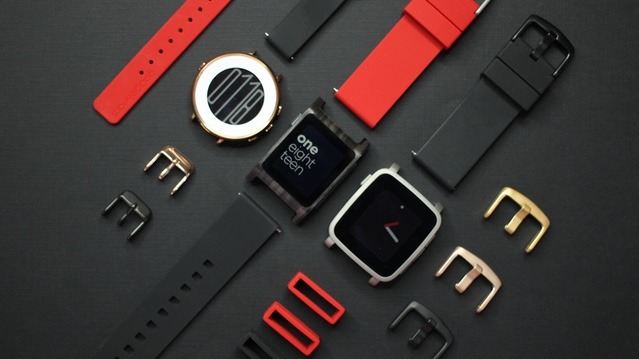 AppleInsider is supported by its audience and may earn commission as an Amazon Associate and affiliate partner on qualifying purchases. These affiliate partnerships do not influence our editorial content.
Fitbit has confirmed it paid $23 million for smartwatch maker Pebble, far below the expected value of the deal when it was announced in early December, amidst both companies' struggles against the Apple Watch.
Initial reports suggested Fitbit would be paying out between $34 million and $40 million for Pebble, which is seen more as an acquisition of software and talent to combat the dominant Apple Watch in the wearable device market. Only 40 percent of Pebble's employees were offered positions at Fitbit's San Francisco headquarters, with the rest let go outright or offered a severance package.
The price Fitbit paid for Pebble is roughly the same amount the smartwatch maker raised through two highly successful crowdfunding campaigns.
Fitbit hasn't assumed debts accumulated by Pebble, and is selling off the majority of assets and inventory. Most Pebble products will be discontinued, while backers of the Pebble 2 who have yet to receive rewards are being refunded their pledges.
The purchase price may be considered too low for fans of the Pebble smartwatch, one of the first examples of the product category to achieve a level of popularity with consumers. It is noted that the $23 million price is approximately the same as funds raised in both of Pebble's Kickstarter campaigns, though the fact that the company also received more traditional investment as well means investors are likely to have lost money on their stake.
Fitbit revealed the value of its Pebble acquisition as part of its recent quarterly and full year results, with the lower purchase price minimizing the damage to Fitbit's financial situation. The purchase of Vector Watch, a lower-profile smartwatch company, is also confirmed in the report with a price of $15 million, seemingly making the deal for the more-recognizable Pebble more of a bargain.
According to the quarterly figures ending in December, Fitbit's revenue dropped year-on-year from $711.6 million to $573.8 million, while the net profit of $64.2 million at the end of 2015 has turned into a net loss of $146.3 million for the quarter. For the full year of 2016, revenue of $2.17 billion is up from the $1.86 billion achieved in 2005, but heavy costs dragged the 2015 net profit of $175.7 million down to a $102.8 million net loss.
Fitbit has already started to correct its course following the disastrous fourth quarter, including cost reductions and corporate restructuring that should save around $200 million, and the loss of 107 jobs. Talent acquisitions, such as that of Pebble's staff, will help the company spread out more from fitness tracking into providing more smartwatch functionality to its customers, allowing it to compete more directly with its main competition, the Apple Watch.