Google Meet video conferencing app goes live on iOS, pulled from App Store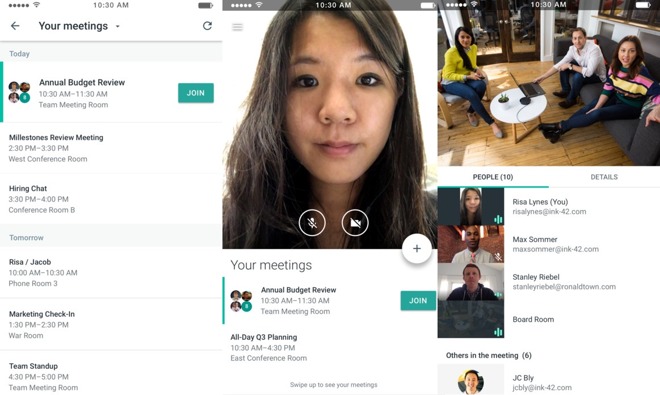 AppleInsider may earn an affiliate commission on purchases made through links on our site.
A new video conferencing service for business users from Google called Meet has partially gone live before an official launch, with an iOS app for the enterprise-focused meeting tool briefly appearing in the App Store before being pulled.
Meet by Google Hangouts, the full title included in the App Store listing, is meant to be a business-oriented version of Google's existing Hangouts platform, reports TechCrunch. As with Hangouts, Meet allows users to make video calls with each other and in groups, though it boosts the participant limit up from 10 in Hangouts to 30 users.
Integrating with G Suite versions of Gmail and Google Calendar, the app will show a list of scheduled meetings and participants, with a "join" button connecting users to the meeting, and options to mute and turn off the video when connected. For larger conferences, a main video window exists at the top of the screen, with a list of participants with smaller chat windows underneath.
One major business-oriented feature is the ability to use dial-in numbers to access the meeting, allowing those without a suitable internet connection to call in. Dial-in numbers will only be available to G Suite Enterprise Edition customers.
While the iOS app was briefly available in the App Store before being removed, Google has not performed a similar vanishing act for the web interface. It is possible to log into the web version through a browser, with visitors greeted by a list of calendar appointments, the option to enter a meeting code, and a clock in a simplistic interface.
So far, it appears that only the iOS and web versions of Meet have surfaced, and though an Android app is likely to launch at some point, it has yet to make an appearance. For the moment, the G Suite product site does not mention Meet, but it is likely to replace Hangouts on the subscription-based service.
Google warned developers in January that it was shuttering its Google+ Hangouts API on April 25 in order to "focus on enterprise use cases." It is unclear if this is a sign Google is considering closing Hangouts for consumer use entirely, but following the launch of the Allo and Duo messaging and chat services last year, Google advised it was continuing "to invest in Hangouts."