Infamous patent troll Soverain Software targets Apple products and services in new lawsuit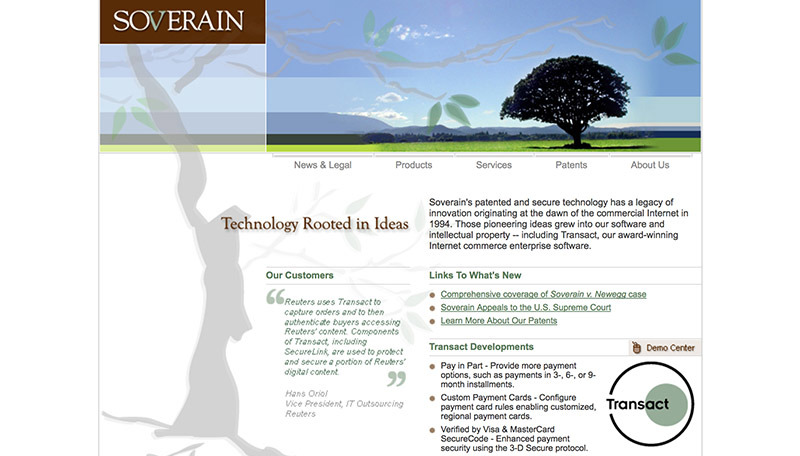 Soverain Software, a non-practicing entity that gained media attention for suing Newegg and other online retailers over "shopping cart" patents, on Thursday filed a complaint against Apple for alleged infringement of IP relating to internet-based services.
In its lawsuit, filed with the patent holder friendly Eastern District Court of Texas, Soverain leverages four patents developed by e-commerce startup OpenMarket, including the now-bankrupt firm's Transact product.
Transact, along with other technologies describing basic digital shopping carts, were at the heart of Soverain's attack on major online companies that began more than a decade ago. The NPE set its sights on nearly 50 retailers including giants like Amazon, initially winning infringement rulings worth millions of dollars.
As noted by Ars Technica in 2013, however, Soverain's streak was stopped cold when it applied those same patents to a suit against Newegg. That year, Newegg's lawyers won an appeal ruling that invalidated the three patents Soverain wielded in its many prior cases.
Despite attempts to appeal the verdict, including a failed petition to the Supreme Court, Soverain ultimately relinquished a $2.5 million damages win over Newegg, as well as two larger cases involving Avon and Victoria's Secret worth a combined $18 million. Newegg's successful appeal also shut down pending litigation against Nordstrom's, Macy's, Home Depot, RadioShack, Kohl's and many more.
Now Soverain is back with four more OpenMarket patents it hopes can be used to extract damages from Apple, and potentially other big tech firms. Part of OpenMarket's Network Management and Data Extraction Portfolio, which is separate from the Virtual Shopping Cart Portfolio, the patents-in-suit include U.S. Patent Nos. 7,191,447, 8,935,706, 5,708,780 and 6,212,634. The latter patent dates back to more than 20 years ago.
Following a lengthy synopsis of OpenMarket's early success, including details on technology not at play in the instant suit, the complaint offers an overview of Soverain's allegations. Specifically, the '447 patent details a method of managing transfers of information in public packet switched communications networks, as well as data extraction from off-site servers using embedded scripts. This particular piece of IP is being leveraged against the Apple.com online store and, more importantly, Apple's Safari web browser.
The '706 patent covers internet security protocols and methods for managing user authentication credentials on an external network. Here, Soverain targets nearly every Apple service that requires a password or utilizes encrypted data transfers, from iMessage to hardware like iPhone. As noted in the complaint, encryption and decryption operations are also performed in FaceTime, Handoff, HomeKit, CloudKit and iCloud, as well as other current products.
Next up is the '780 patent, which deals with session identifiers, or unique strings of text that allows web servers to recognize single clients "during a series of requests and responses, provide access to information resources which the user is authorized to access, and to monitor the user's access." Such technology is used to facilitate content downloads by APIs in iOS, macOS, watchOS and tvOS, the complaint says.
Finally, the '634 patent covers certifying authorization of a computers, otherwise known as permissions, over a given network. Soverain is aiming the '634 patent at iOS devices running iOS 9 and iOS 10.
Though the four patents-in-suit are vague and might potentially be deemed obvious, at least one — the '447 patent — was confirmed in a 2012 reexamination by the U.S. Patent and Trademark Office.
The complaint itself is rather broad, covering current Apple software and hardware solutions from iPhone to Apple Watch to Mac and beyond. Whether Soverain can successfully argue that its purchased IP drives technology powering almost every product Apple sells remains to be seen. Indeed, the repercussions of finding in favor of the plaintiff would impact the wider tech industry, as nearly all modern smartphones, tablets, computers and accompanying software incorporate some form of tech described in Soverain's patents-in-suit.