Apple online store goes down for scheduled maintenance, new hardware rumored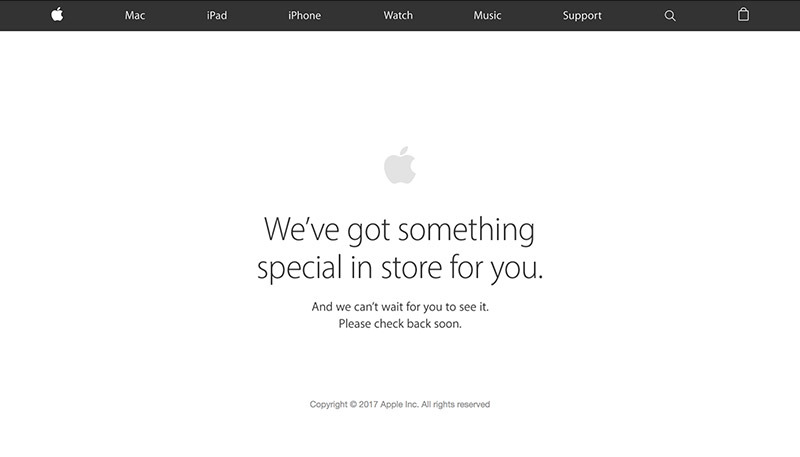 As planned, Apple's online storefront was taken offline early Tuesday morning for what maintenance, sparking hopes the company is preparing to launch its first hardware product of 2017.
On Monday, Apple updated its system status webpage with an announcement saying customers would be unable to access the online Apple from 3 a.m. to 8:30 a.m. Eastern due to a scheduled maintenance downtime. As noted, Apple usually issues press releases at around that time, stoking speculation that a new product will see release once the store returns to service.
While an official announcement has yet to be made, recent rumors suggest the company is planning to launch a series of new iPads in the near future. At the forefront of those rumors is a 128-gigabyte iPhone SE, a device that is due for an upgrade but might not rate the usual media event treatment. Apple launched the original SE last March, meaning a minor specification bump could be in the cards.
More recent rumblings suggest Apple is looking to launch new iPads including a hotly anticipated 10.5-inch iPad Pro model with a thin-bezel display and overall footprint just slightly larger than the current 9.7-inch iPad Pro. Uprated iPad Pros are also slated for release, including a revamped 12.9-inch iPad Pro and a 9.7-inch variant, the latter of which might replace iPad Air 2 as Apple's student and enterprise tablet.
New iPad Pro models are less likely to debut tomorrow, as Apple traditionally holds public events for such high-profile launches. While the company might add a low-cost 9.7-inch iPad and upgrade iPhone SE to its online store with little fanfare, a newly designed 10.5-inch model is unlikely to see release without a media presentation.
Apple's online store is expected to return to operation at 8:30 a.m. Eastern, 5:30 a.m. Pacific.