Square brings payment service to UK with Apple Pay-supporting Square Reader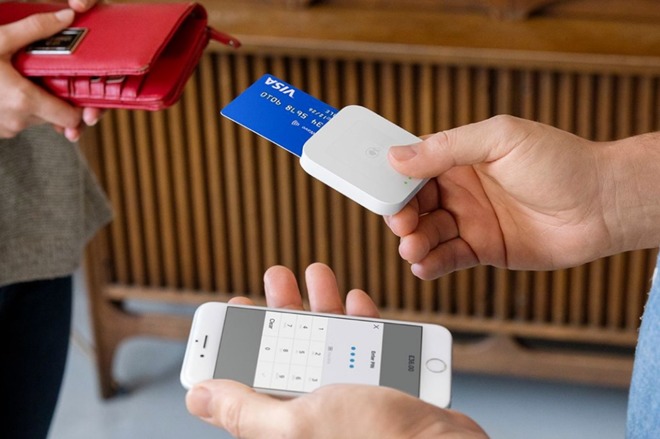 AppleInsider may earn an affiliate commission on purchases made through links on our site.
Card payment firm Square is expanding its reach into Europe, with the launch of the Square Reader in the U.K., offered as a way for small businesses to easily accept card payments using chip and PIN, contactless transactions, and mobile payments including Apple Pay.
Square's U.K. service consists of the Reader hardware and a mobile app, with the two used together to perform transactions via a smartphone or tablet, without requiring potentially expensive point of sale systems. Originally launched in 2015 in the United States, the compact Square Reader connects via Bluetooth to a host device, and is used to read the payment card's chip or perform a contactless payment, including Apple Pay and Android Pay via smartphones.
The Point of Sale app, a free download, is aimed as a way for small business users to manage their affairs, including sales, inventory, and reporting. The app can also be used to connect to other point of sale hardware, including cash drawers, printers, and barcode scanners, though the majority of its functionality can be used without these items.
For U.K. clients, the Square Reader costs £39 ($49) excluding VAT, with Square taking a 1.75 percent cut of transactions for cards and mobile payments, growing to 2.5 percent for telephone orders, online payments, and electronic invoices. Notably, these rates are lower than the 2.75-percent fee paid by U.S. merchants.
Square is relatively late to arrive in the United Kingdom, with the country being the company's fifth market to formally launch within behind the United States, Canada, Japan, and Australia. Competing services from PayPal, iZettle, and others all provide similar card and contactless reader accessories, which will make it harder for Square to get a foothold in the market.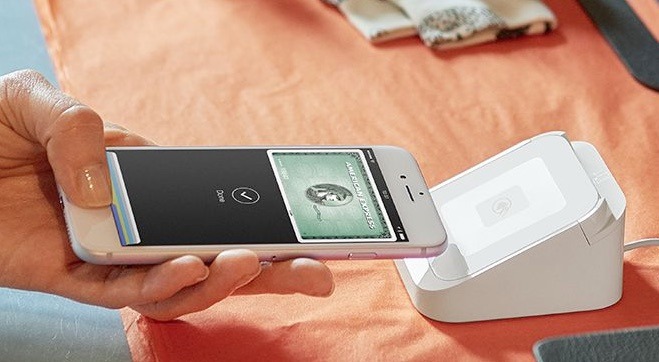 Even so, Square believes that the U.K. is still a good market to launch within, with the average adult carrying less than £25 ($31) in cash, and 70 percent of U.K. shoppers preferring card payments. Despite the preference for non-cash payments, Square estimates that only half of the UK's 5.4 million small businesses accept card payments, which gives the company a sizable potential customer base to target.
In January, Square announced a partnership with Apple that would allow U.S. businesses to process over $12,000 in Apple Pay transactions for free, saving up to $350 in fees, if they set up a marketing kit promoting Apple Pay at the point of sale terminal. The deal suggested Apple and Square wanted to increase support for their services by small businesses, which typically rely on conventional card and chip readers without NFC support due to the potential upgrade costs for existing equipment.