J.D. Power: 2017 tablet buyers report "outstanding" satisfaction, ready to spend money on premium brands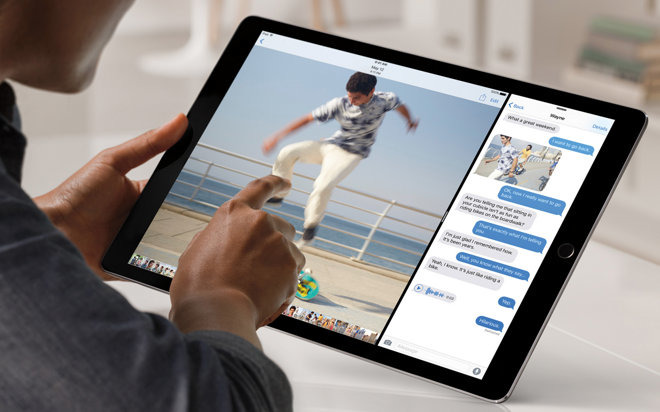 AppleInsider may earn an affiliate commission on purchases made through links on our site.
In a followup conversation to clarify the firm's recently reported findings on U.S. tablet buyers, J.D. Power highlighted a series of data points that overturn many established narratives on the "beleaguerment" of the tablet market, particularly with regard to premium-priced, higher-end models.
The advertised takeaway was statically insignificant
While much media attention covering the firm's 2017 tablet survey focused on the higher overall score of Microsoft's Surface compared to Apple's range of iPad offerings, the scores were actually "not statistically different," according to Jeff Conklin, J.D. Power's vice president of service industries.
In fact, the user satisfaction scores supplied by the study's more than 2,200 participants— selected from households that had purchased a new tablet device over the past year— overwhelmingly expressed high satisfaction with their tablets across the board.
The scores, based on a 1,000 point scale of various rankings— from a dissatisfied 1 to an average 5 to a perfect 10— ranged between 85.5 percent for Microsoft to 84.9 percent for Apple to a still very high 81.2 percent for seventh-place Asus, the lowest-ranking tablet vendor included in the results.
Surprise: tablets are "really delighting customers"
"The scores are outstanding," Conklin noted in a conference call the firm arranged with AppleInsider. The reported U.S. consumer sentiment indicates that tablets in general are "really delighting customers," at least among the leading brands included in the survey results. Rather than low pricing, consumer satisfaction correlated higher with compelling features, including performance, ease of use and style and design
That's a far cry from the tablet doom that has become gospel among much of the tech media ever since sales of tablets began falling significantly from peak shipments reached around 2014.
Two common reasons often citied for the drop in overall tablets sales is their longer replacement cycle compared to smartphones (which buyers are typically incentivized to replace by carriers every two years), as well as the competition for attention asserted by the expanding category of large screen smartphones, which apparently began to quell new tablet demand for the first time since iPad appeared in 2010.
Tablet satisfaction connected to higher priced models
The J.D. Power survey also contradicted another commonly held idea about the future of the tablet market: rather than low pricing, consumer satisfaction correlated higher with compelling features, including performance, ease of use and style and design.
That's an endorsement of what Apple's been focusing on all along, even as Android vendors have debuted a series tablets with amazingly low prices. Google in particular reached downward to deliver very low prices for Nexus 7, without delighting users. It has since ratcheted its prices up in an abandonment of cheap tablets with its latest Pixel C, initially priced at $599.
Microsoft similarly dropped its entry-level Surface RT lineup to focus on its Surface Pro and even more expensive laptops and desktop PC offerings. Surface Pro 4 now starts at $799 and goes up to $1699, the same price range of Apple's most expensive 12.9 inch iPad Pro tablet and entry level MacBook Pro notebooks.

Consumers' apparent insensitivity to price as a factor in tablet buying decisions appears to be evolving. As we noted in our initial report, J.D. Power initially ranked iPads highest on the basis of features back in 2012, but in 2013 gave Samsung an overall top score based solely on its pricing, despite Galaxy Tabs earning much lower scores in terms of performance, ease of use, physical design and tablet features. The top score again passed to iPad in 2014, and was shared between Apple and Samsung in 2015.
Last year, iPad effectively tied with Surface as hybrid tablets climbed up its rankings. J.D. Power noted that overall, "satisfaction is 11 points higher for hybrid tablets, compared with non-hybrid devices (827 vs. 816, respectively)," despite also pointing out that consumers paid premium for hybrids: "the average customer-reported price paid for a hybrid tablet is $444, compared with $277 for a non-hybrid tablet."
Apple's cheaper iPads are as satisfying as Surface Pros at twice the price
This year's publicly published J.D. Power tablet survey results don't differentiate between buyers of basic entry-level tablets and those who opted to buy a more complex and much more expensive product. Instead, it again only presented a composite score for each vendor. More detailed information is available to paid subscribers of the study.
Unlike Microsoft, Apple also sells a smaller 7.9 iPad Pro tablet starting at $599 and a range of standard iPads priced from $329 (for the new 9.7 inch A9-powered 2017 iPad).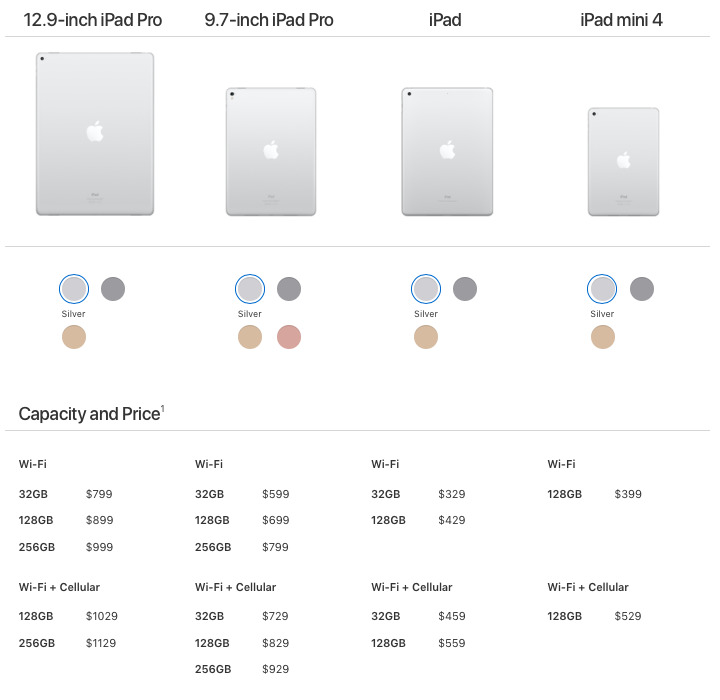 Asked about the wide product mix and how that might affect the public overall score given to each tablet maker, J.D. Power staff said they were "not sure."
However, given the overall correlation between higher prices and user satisfaction, it appears Apple's score— covering a far wider product range of much cheaper iPads— compares very favorably to the "statically not different" score Surface buyers reported on systems that begin at twice the price of Apple's basic iPad.
Asked whether the company "accepts any funding from companies involved in its reports," J.D. Power stated it did not. Client firms can subscribe to the full reports of its data gathered.
What is J.D. Power comparing?
Conklin described the intent of the firm's report as detailing the features and factors that drive consumer satisfaction in tablet purchases. The study involves interviewing consumers who have bought a new tablet, and looking at how they bought it, the process of getting it up and running and how they feel about factors ranging from performance to features to styling.
Because each study participant selected their purchase based on their own criteria (their personal budget and the desired features that are important to them), the study doesn't really compare users' satisfaction across a range of brands, but rather only their feelings about what they personally wanted (and ultimately chose) to buy.
One difference among the consumer groups highlighted by Conklin was that while both iPad and Surface buyers reported virtually identical sets of needs from their tablets (including browsing the Internet, email, social media and watching videos), Surface buyers specifically noted "word processing" as a top function, while iPad users did not.
Apple includes basic word processing features in its bundled, iCloud-synced Notes app, and also provides more comprehensive word processing and page layout tools in Pages, which it offers as a free download to new iPad buyers. Microsoft also provides Word (and other Office apps) for iPad, among many other App Store options for word processing.The users buying different tablets in the study were also notably different in character
The fact that Surface buyers are specifically thinking about "word processing" as an important tablet feature in 2017 suggests that those looking to buy Microsoft's machine have a generally different concept of computing— perhaps a Windows mindset— than people looking to buy an iPad.
The users buying different tablets in the study were also notably different in character. Conklin said iPad buyers in the study had an average age of 50, while Surface buyers reported an average age of 42. That younger survey sample also regarded themselves as being on the early edge of technology adoption more commonly than the iPad buyers in the survey.
Apple executives have remarked that iPad particularly appeals to young children and older adults, both outside of the typical market seeking conventional PCs.
Tablet takeaways
While details of the J.D. Power tablet survey seem to raise as many questions as they answer, it appears to indicate that among U.S. buyers, name brand tablets of all kinds are broadly, highly satisfying to buyers who pick them.
It doesn't attempt to answer the question of whether users overall seem more satisfied by basic tablets compared to more powerful— but also more complex— conventional notebooks.
However, it does shed light on the fact that the very population that sees hybrid 2-in-1 tablets as necessary to handle their work load reports a level of satisfaction that's not statistically different from buyers who opted to go with an iPad, while most certainly spending far less to do so.
On the other hand, it also doesn't directly contrast Microsoft's Surface Pro with either Apple's similarly sized iPad Pro or its MacBook line that Microsoft would like to be compared against (as it has in its own advertising since 2014, below).
In January, Apple's chief executive Tim Cook noted in the company's quarterly earnings call that "recent data from NPD indicates that iPad had 85 percent share of the U.S. market for tablets priced above $200."
Those numbers may not include sales of Microsoft Surface, which is often regarded as distinct from "tablets." It does however, indicate that Apple has nailed down the vast majority of the market for premium tablets.
iPad users have previously reported very high satisfaction with their purchases. Cook added that "in November, 451 Research measured a 94 percent consumer satisfaction rate for iPad Mini, a 97 percent rate for iPad Air, and 96 percent for iPad Pro."
While based on totally different criteria and methodology, the findings of 451 Research align with the "outstanding" levels of satisfaction that J.D. Power found across U.S. tablet buyers in their first year.