Apple to create $1B 'advanced manufacturing fund' in US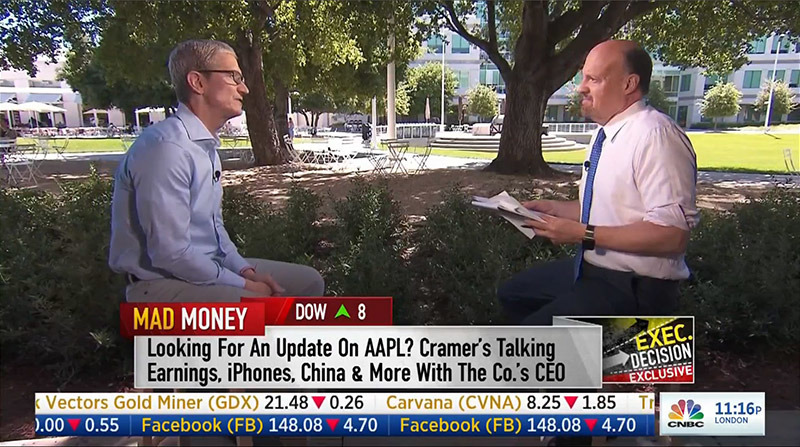 Apple CEO Tim Cook on Wednesday said the company has created a $1 billion manufacturing fund that will help stimulate job growth in the United States.
Cook announced the "advanced manufacturing fund" during an interview with CNBC's Jim Cramer, saying capital backing the initiative will come from the company's U.S. investment pool. In the last quarter, Apple spent $50 billion on manufacturing in the U.S.
"We're really proud to do it," Cook said. "By doing that we can be the ripple in the pond, because if we can create many manufacturing jobs, those manufacturing jobs create more jobs around them."
The move comes amidst political pressure to repatriate jobs lost to overseas firms, especially those outsourced to China. Of note, President Donald Trump's administration has made job creation a major platform goal, often calling on tech firms — specifically Apple — to produce their devices in the U.S. rather than farm out production to cheaper labor markets.
Cook failed to provide details about the fund, saying only that the billion dollars will come from the company's U.S. outlay. He went on to remind Cramer that Apple has to borrow money to fund domestic operations, as most the company's $256 billion cash hoard lies overseas.
The fund goes beyond Apple's $1 billion investment in SoftBank's Vision Fund, a $100 billion resource created to accelerate the development of technology around the world. Some $50 billion of the Vision Fund will be directed toward U.S. endeavors.
Apple is expected to announce its fund's first investment in May.
During today's interview, Cook outlined Apple's impact on U.S. job creation. So far, the company has created some two million jobs in America, 1.5 million of which are attributable to the App Store. The company also has 25,000 employees working on research and development in California, as well as 5,000 people in Austin, Tex., working in R&D and other sectors. Cook also counts retail workers and employees at production partners like Corning and 3M in the two million job figure.