Apple publishes 'How to Shoot on iPhone 7' video series to website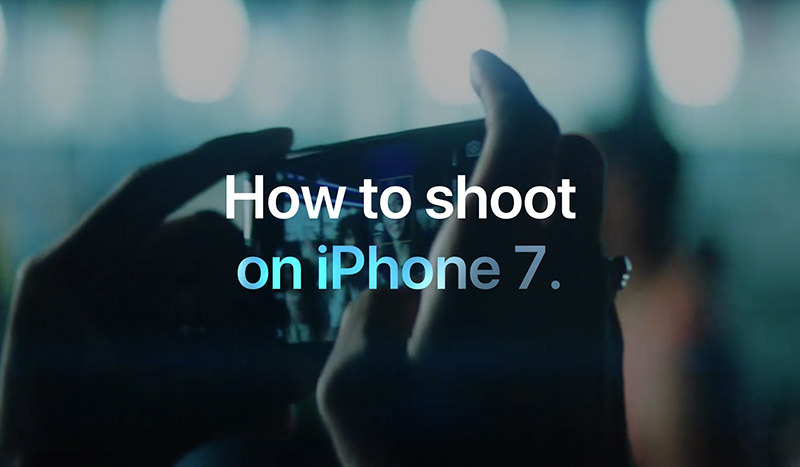 AppleInsider is supported by its audience and may earn commission as an Amazon Associate and affiliate partner on qualifying purchases. These affiliate partnerships do not influence our editorial content.
Apple on Thursday added a new page to its website dedicated to taking better photos with iPhone 7. The mini-site is filled with short tutorial videos that explain — and advertise — the handset's various capture modes to new users, while offering lessons on basic photography techniques.
Dubbed "How to Shoot on iPhone 7," the explainer series consists of 16 short videos that run about 40 seconds in length and cover a range of iPhone photography methods. The series was obviously created for viewing on iPhone, as each video — save for an explainer on panoramas — is produced using a vertical portrait aspect ratio.
Each set to a chill beat, the short spots provide users with easy to understand steps that can be applied to capturing better images with the handset.
For example, instructions offered in the Portrait Mode short below include "switch to Portrait Mode, look for depth effect and shoot." A brief summary appears at the end of each clip, which for Portrait Mode is, "Portrait Mode. Depth effect. Shoot."
Apple slyly incorporates nods to unique hardware functionality in a few lessons on close-ups, vertical panoramas, photos without flash, action shots with burst mode and selfies using iPhone's timer function. One video teaches users how to edit a selfie using crop tools provided with the built-in Photos app, while another focuses on taking a still picture during while filming a video, both features debuted in recent versions of iOS.
At the time of this writing, Apple has published five of the 16 video tutorials to its YouTube channel as a standalone playlist. The YouTube versions have been edited to accommodate a more traditional aspect ratio.
As for basic photography tips, Apple provides information on livening up pictures with unique angles, shooting during golden hour, creating a "bold and simple" image, techniques for capturing backlit subjects and sunset silhouettes, and shooting in low-light conditions. These latter tutorials delve into more advanced iPhone photo functions like HDR, focus lock and exposure compensation.
Together, the videos serve not only as an opportunity to teach existing owners about their hardware, but act as an advertising tool touting iPhone 7's capabilities. Apple produced a similar series of videos when it released a set of Apple Watch guided tours in 2015.