Apple's iPhone scores 92% loyalty rate ahead of 'iPhone 8' launch, study finds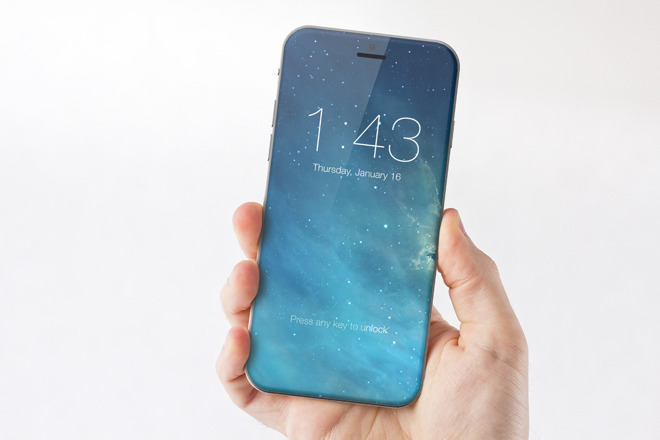 A new study published by investment bank Morgan Stanley shows 92 percent of iPhone users who are "somewhat or extremely likely" to upgrade within 12 months intend to buy Apple, a good indicator that this year's iPhone revamp has the makings of a so-called "super cycle."
As noted by analyst Katy Huberty in a research note circulated on Wednesday, and subsequently reported by StreetInsider, Morgan Stanley's AlphaWise survey found Apple far ahead of the pack in terms of customer loyalty.
The iPhone's reported 92 percent retention rate compares to Samsung's 77 percent, LG's 59 percent, Motorola's 56 percent and Nokia's 42 percent. For Apple, the number is up from 86 percent during the same time last year.
Acting on the new information, and previous predictions of an iPhone "super cycle," Huberty raised her price target on Apple stock from $161 to $177.
The AlphaWise survey data arrives ahead of Apple's expected launch of three new iPhone models this fall. Along with the usual "s" upgrades to the iPhone 7 series, the company is widely rumored to launch a high-end "iPhone 8." The flagship device is anticipated to drive high sales, addressing pent up demand for a redesigned iPhone. In many respects, the iPhone 7's design is a carry over from the iPhone 6.
After a brief return to growth in the holiday quarter, iPhone sales contracted on a year-over-year basis during the three-month period ending in March. Apple is looking to stoke demand with the the coming refresh cycle, though price might be an issue for some buyers.
Still, there are signs that consumers are willing to pay a premium for novel features. Despite a dip in unit sales, iPhone generated higher than expected profits over the most recent quarter, suggesting a mix in favor of the more expensive iPhone 7 Plus.
Apple CEO Tim Cook addressed the quarterly iPhone sales contraction in an investor conference call, saying, "Earlier and much more frequent reports about future iPhones" are having an impact on performance. The statement suggests consumers are holding out for "iPhone 8," rumors of which have been circulating for months.
Expected to boast a "glass-sandwich" design, the purported flagship iPhone is said to feature a 5.8-inch OLED screen with embedded Touch ID, virtual home button, wireless charging and a revolutionary 3D front-facing camera system, among other improvements. Augmented reality functionality might also be included, though information on potential capabilities is scarce.