First video of 'iPhone 8' mockup hits the web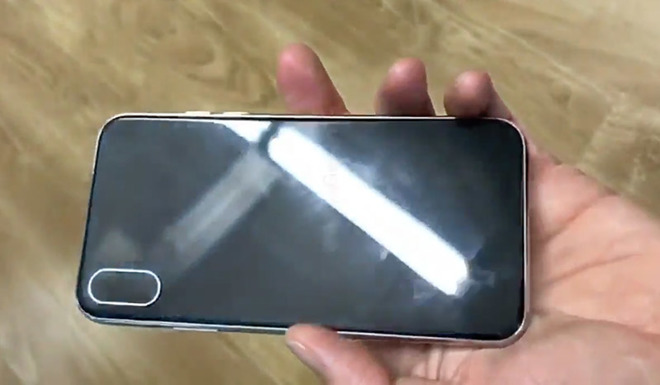 AppleInsider may earn an affiliate commission on purchases made through links on our site.
Building on photos of an "iPhone 8" mockup published last week, a video posted to Twitter on Tuesday appears to show an identical dummy unit in the hands of a user, offering a taste of what the next-generation handset might look like when it is released this fall.
The dummy unit seen in the short ten-second video uploaded by Benjamin Geskin appears to be in line with current rumors surrounding Apple's next-generation handset, boasting a 2.5D curved glass sandwich design, full-face display lacking a physical home button, vertical twin camera array and thicker chassis.
Interestingly, the mockup appears identical, or at least very similar to, a dummy unit shown off in a series of photos last week. That particular dummy was crafted based on schematics supposedly leaked from Apple manufacturers.
Today's supposed leak also matches a mockup shared by Geskin himself, who in April posted images of what he claimed was a "CNC model" from Foxconn. The April mockup featured two front-facing cameras, a 4-millimeter bezel and metal frame. Overall thickness was said to be identical to iPhone 7 at 7.1mm.
As for the video posted today, Geskin failed to provide a source of the mockup model, nor did he explain how the non-functional unit was built. The Twitter-based leaker only recently gained notoriety, and his track record has yet to be proven or disproven by actual shipping products. In the past, Geskin claimed to have sources within Apple's Asian supply chain, as well as contacts at aftermarket case makers.
Apple is widely expected to debut "iPhone 8" this fall alongside iPhone 7 series "s" upgrades. Availability of the flagship device might be pushed to October or November due to production issues, though Apple is likely working with suppliers to meet its usual September launch time window.