Apple previews iMac Pro, the most powerful Mac ever built, coming in December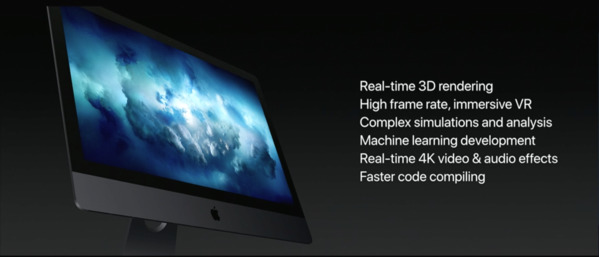 In a rare pre-announcement intended to appease professional users, Apple offered a sneak preview of the new iMac Pro coming in December, boasting up to 18-core Xeon processors and up to 128GB of ECC memory.
Priced at $4,999, the iMac Pro will be the most powerful iMac ever built by Apple when it ships this December. It will feature next-generation Radeon Vega graphics, and comes in a space grey chassis.
With a 27-inch 5K display, the all-in-one machine offers what Apple characterized as workstation-class performance thanks to a completely rethought thermal architecture.

Configurations will include 8-, 10- and even 18-core Xeon processors, capable of delivering up to 22 teraflops. The hardware will boast four Thunderbolt 3 ports that can drive two 5K displays and two high-performance RAID arrays.
Apple says to build a comparable PC would cost about $7,000, but Apple plans to undercut its competitors with a $4,999 starting price. The iMac Pro will begin shipping in December.