MagSafe replacement comes to Apple's 15" MacBook Pro with Vinpok Bolt-S USB-C adapter
By Mike Wuerthele
Tuesday, July 11, 2017, 10:37 am PT (01:37 pm ET)
A new USB-C adapter and cable from Vinpok will soon return MagSafe-like functionality to the 15-inch MacBook Pro with Touch Bar, complete with 87 watts of charging power.




The Bolt-S cable has a USB-C detachable end that inserts into the computer, with the cable itself held in place with a magnetic ring. Vinpok claims that it is the first and only magnetic power cable solution able to provide full charging power to the 2016 and 2017 15-inch MacBook Pro With Touch Bar.





The cable will not carry data, meaning users will have to plug a standard USB-C or Thunderbolt 3 cable into one of the MacBook Pro's three other ports for external devices and accessories.

The Vinpok Bolt-S will come in black or silver, and will retail at launch for $29 according to company representative.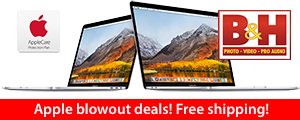 2018 13" Touch Bars
Price
Save
2.3GHz/8GB/256GB (Gray)
$1,699.00+
$100
2.3GHz/8GB/512GB (Silver)
$1,879.00+
$20
2.3GHz/16GB/512GB (Gray)
$2,099.00+
$100
2.7GHz/16GB/512GB
$2,449.00+
$50
2.7GHz/16GB/1TB
$2,849.00+
$50
2018 15" MacBook Pros
Price
Save
2.2GHz/16/256GB/555X
$2,215.00+
$185
2.2GHz/32/1TB/560X
$3,449.00+
$50
2.6GHz/16/512GB/560X
$2,575.00+
$224
2.6GHz/16/1TB/560X (Gray)
$2,999.00+
$200
2.6GHz/32/1TB/560X (Gray)
$3,399.00+
$200
2.6GHz/32/2TB/560X (Gray)
$3,999.00+
$400
Click here for dozens more configurations
+ Free shipping within the contiguous U.S.
Lowest Prices Anywhere!

13" MacBook Pros
Price
You Save
3.1GHz/8GB/256GB Gray
$1,679.00
$120.00
3.1GHz/8GB/256GB Silver
$1,704.00*
$95.00
3.1GHz/8GB/512GB Gray
$1,849.00*
$150.00
3.1GHz/16/512GB Gray
$2,099.00
$100.00
15" MacBook Pro
Price
You Save
2.8GHz/16/256/555 Silver
$2,199.00*
$200.00
2.8GHz/16/256/560 Gray
$2,299.00
$200.00
2.9GHz/16/512/560 Gray
$2,599.00
$200.00
2.9GHz/16/1TB/560 Gray
$2,999.00
$200.00
3.1GHz/16/512/560 Gray
$2,799.00
$200.00
3.1GHz/16/2TB/560 Gray
$3,899.00
$300.00

*

price with Promo Code:

APINSIDER

prices.appleinsider.com for more configurations