Review: Amazon Echo Show is 'good enough'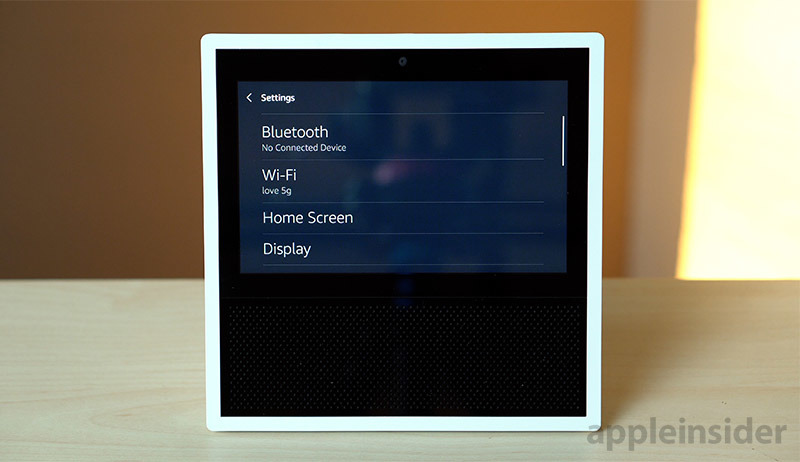 AppleInsider is supported by its audience and may earn commission as an Amazon Associate and affiliate partner on qualifying purchases. These affiliate partnerships do not influence our editorial content.
Arguably the best home assistant gets even better with the launch of Amazon's latest Alexa-powered accessory, dubbed the Echo Show, arriving months before Apple's competing HomePod arrives in December. It's also Amazon's most expensive model at $229.99, compared to $179.99 for the original Echo and $49.99 for the Echo Dot.
Like its name implies, the Echo Show's standout feature is a 7-inch touchscreen display, a first for not only Amazon's offering of smart assistants, but also among other popular alternatives. Like most devices with displays these days, a camera is placed above the screen for video calls and something Amazon calls "drop in."
Design
The Echo Show is much larger and definitely more noticeable on your counter or nightstand than the original Echo. At 2.5 pounds and boasting a slanted design, it takes up about as much room as 4 standard Echo units or about 20 Echo Dots. It's obvious that this device isn't meant to blend into a room like the Dot, but rather be the centerpiece of your living space.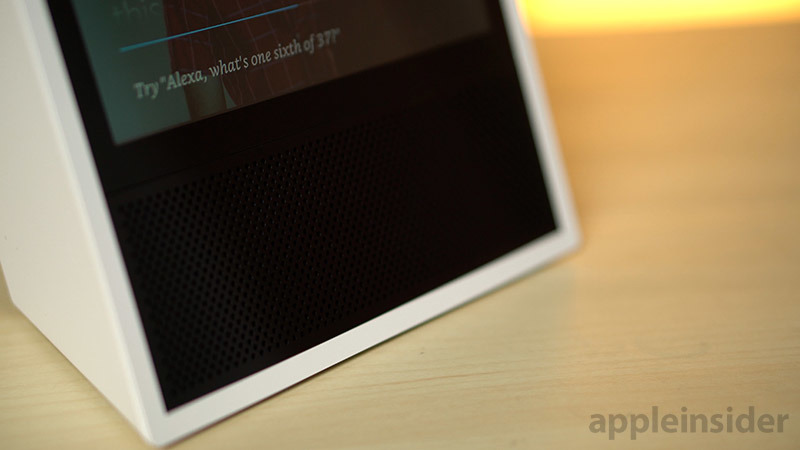 Overall, we like the design. It has a mix of modern with a bit of retro that will fit well in most people's homes. Amazon offers the choice of two colors, black on black or a "white" which swaps the outside shell but leaves most of the front black. At first we were a bit disappointed with this aesthetic decision but it's since grown on us. A complete white color scheme would have been a bit too boring, but the black on white looks quite nice.
Below the display is a plastic grill hiding a pair of 2-inch speakers, and above is the camera, which comes in at 5 megapixels. At the top, we have eight microphones set in an oval around three buttons which are the only physical controls on the device. With these you can adjust the volume, and also mute the Show which also disables the camera. A power button is nowhere to be found, as the Echo Show turns on automatically when you plug it in.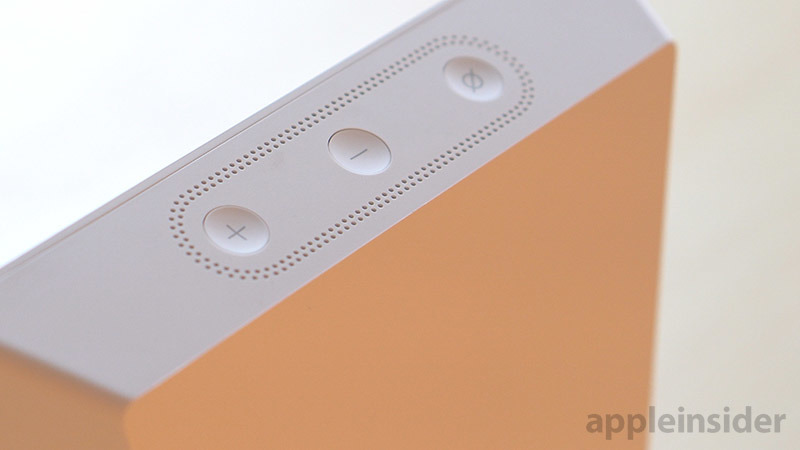 This simplicity also applies to the software, which is immediately apparent once you start playing with the display. You can adjust a few settings and pair the Echo Show to Bluetooth devices, but the options are very limited. I was expecting something similar to my kids' Kindle Fire tablets, but Amazon isn't trying to compete with tablets or phones that are designed to be touch first.
Yes, you can touch the display, but it's very apparent that the Echo Show is designed to be a voice-controlled device, like the other Echo models. It doesn't offer an app store, but instead provides a portal from which users can add "skills." Most icons that you'd expect to react when touched don't do actually do anything. This may be because the device is new and more features are yet to come. After a few failed attempts tapping for more information, such as on a Yelp review icon for a local ice cream shop and nothing happens, you get conditioned to using your voice.
Only $50 more than the echo?
Staring at the Echo Show after getting through the very simple setup (now 15 minutes into the required software update), we wondered how Amazon could pull off charging only $50 more than the original voice-only Echo for this well-built device that features a touchscreen display and camera. After a week of use our original question is very easy to answer: The hardware is mostly low end.
In a day and age where 4K is the new standard, the display's resolution is less than 720p. The camera's 5-megapixel resolution is fine, but the dynamic range is poor, causing brightly-lit windows to render as completely blown out, while faces remain dark as the camera tries to balance out the exposure. The pair of speakers, advertised as "expansive, stereo sound powered by Dolby; dual full-range speakers for rich bass and balanced listening" are in actuality the weakest part of this device.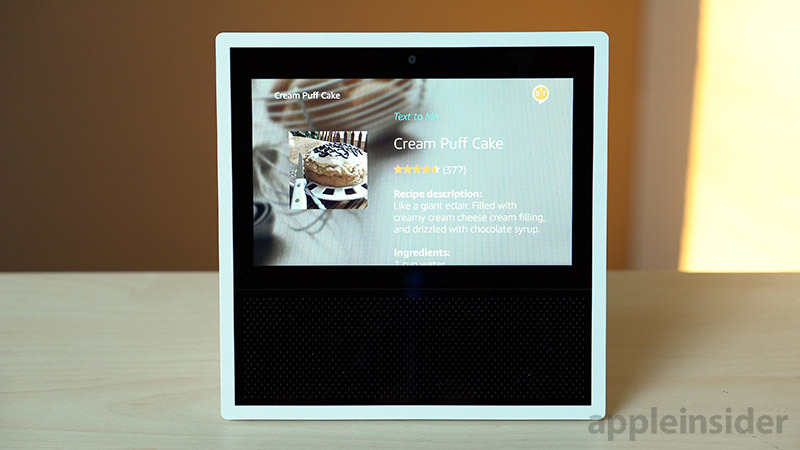 When you're close enough to interact with the display, the low resolution is noticeable, and if you're picky with image quality like we are, you'd be better off picking up an iPad than sitting by the Echo Show and watching videos. It's a good thing that most of the time you're at a distance, where the low resolution is harder to tell. The display gets surprisingly bright having no issues battling glare that shows up easily on its glossy cover, and it also gets quite dim which is helpful in the evenings.
Alexa's voice gets very loud at the maximum settings, and with the far-field microphones that surprisingly pick up our voices from the next room over, we're not limited to only using the Show in the kitchen. When you're watching a video or playing back music, the maximum volume is noticeably lower, likely to limit distortion as the small speakers have to reproduce significantly more frequencies than a voice. Even so, loudness is good enough for most situations. With that said, if you're the kind of person who will pay more to get higher quality sound over cheap headphones or a budget soundbar, the sound quality will prove disappointing.
If you own a 27-inch iMac, the maximum volume is about the same. The mid tones sound similar but the iMac's bass is much more defined and the high frequencies are cleaner and more crisp. We have a $60 Anker Bluetooth speaker that sounds very similar, but gets a bit louder than the Echo Show.
After a few days, we ended up doing the same thing with the Show as with the Dot: connecting it to an LG home theater system with built-in Bluetooth. Setup was a breeze and the sound quality is incomparable, but it somehow lacks the previous convenience of hands free control that we so much enjoyed. When we stream audio from my phone to the LG system, we can use the built-in volume controls on our phone that override the speaker controls. With the Show, the volume defaults to whatever the soundbar and sub combo was when last used. If you were watching a loud movie and left the volume up that level, you could be in for a surprise the next time you use it. Hopefully this can be addressed with a firmware update.
We would gladly pay an additional $130 for a higher quality display, camera, and speakers, matching the $349.99 price of the upcoming Apple HomePod. Still, the "good enough" hardware of the Echo Show will satisfy the average budget-minded consumer.
Amazon's headline for the Echo explains everything in just a few words; "Now Alexa can show you things". So, how much of a difference does having a screen make? As it turns out, huge. As we mentioned earlier, we've been using an Echo dot since it debuted, and felt it was worth the $50 investment to easily control our Philips Hue lights and ask Alexa questions every so often. If we would have bought the standard Echo for $180, we'd likely be disappointed in not using it as much as expected.
While using the Echo Show, it displays tips at the bottom of the screen with commands that Alexa can respond to.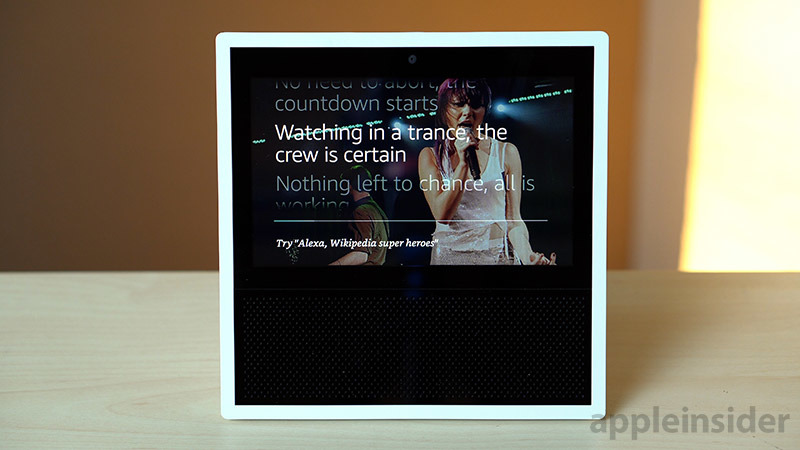 The Echo Show's display makes it not only much more useful, but also reminds us to use it. The home screen can be customized to show the info you want, like the new stories, weather, calendar events and more to quickly provide info at a glance.Walking through the living room and kitchen, it always grabs your attention and keeps you in the know with important headlines.
The biggest reason we didn't use our Echo more was simply not knowing everything Alexa offers. While using the Echo Show, it displays tips at the bottom of the screen with commands that Alexa can respond to. After one week of use, our Alexa vocabulary has more than doubled.
If you love listening to music like us, Alexa will display auto scrolling lyrics and album art as your song plays. It's a nice touch that we enjoy, other than realizing how poorly we hear the words to songs. When asking for info like the weather, you can see the whole week with a quick glance at the display. While we don't do much cooking, the Echo Show can serve up a recipe without having to pull out your mobile device, set up a stand, open apps and scrolling with dirty fingers. Add in multiple timers and to-do and shopping lists, and you can see why Echo could be popular with those in the kitchen.
A feature we didn't get to try out is connecting cameras like Netgear's Arlo, Ring doorbell, or child monitors. This allows you to easily keep an eye out on your home or check up on the kids without having to pull out your phone and open an app which is much more convenient. If you do have some cameras setup in your home, functionality is still basic and buggy as companies are rushing to update their Echo Skills (like apps) to support the new display.
As avid YouTube users, we appreciate that the Echo Show now supports Google's video service. Requesting "Alexa, Play iPhone 8 rumors on YouTube" will autoplay the top search result. Asking Alexa to "Search iPhone 8 rumors on YouTube" will display numbered results. From here, just ask Alexa to play one of the videos based on the number assigned, or to scroll to view more search results. The system works but is a bit slow if you're looking for something specific and need to keep asking her to scroll, as there isn't an auto scroll function.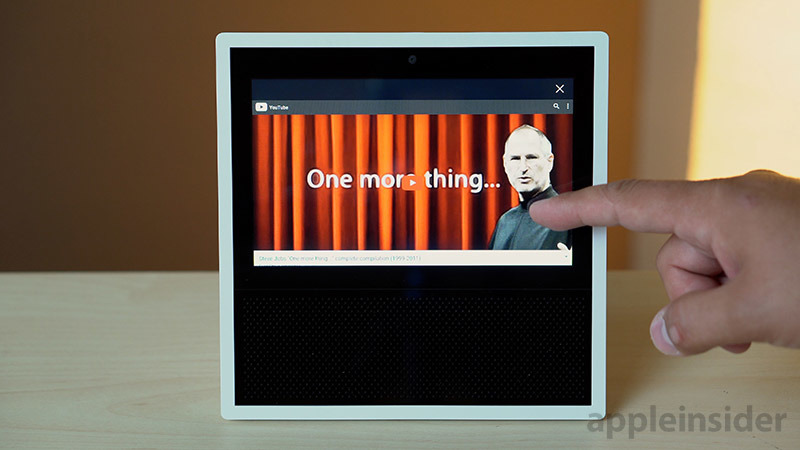 Video playback is about all you get with YouTube. There's no way to like or dislike a video or add it to a playlist. You can tap on the Youtube icon which brings up YouTube in a very limited web browser allowing you to view the description and comments section, but unfortunately you can't log in. If you spend a good chunk of time on YouTube, you'll definitely feel limited. One thing you won't miss though, is ads. Because of Amazon's ad policy, you don't need to use an ad blocker or pay for YouTube Red. The only ads you will see or hear are Amazon's own, offering an Amazon Music Unlimited subscription.
Alexa was a big hit with my 2- and 4-year-old children when we got the Echo Dot, but after a few days they forgot about her. The Echo Show left a much longer lasting impression. While we're not sure if it's a good thing, my 4-year-old easily requests Alexa to turn on his favorite cartoons or songs and playlists that he likes. He's now figuring out he can call us using Alexa, which could be a very good thing for safety but we can see it getting annoying if we don't limit him. Thankfully, my 2-year-old (the troublemaker of the family) can't properly pronounce "Alexa," so that limits the damage she can do.
Drop in is awesome, and a bit creepy
Reading through initial reactions after Echo Show was announced, many people expressed concerns over Alexa's new "drop in" function. We like it. This feature is disabled out of the box, so if you're worried about it leave it off and enjoy everything else Echo has to offer. If you do enable it, those with permission and another Echo show or a downloaded Alexa app can automatically "drop in" to a video chat through your Show. This has been very convenient in my home as I can easily check up on the kids or talk to my wife.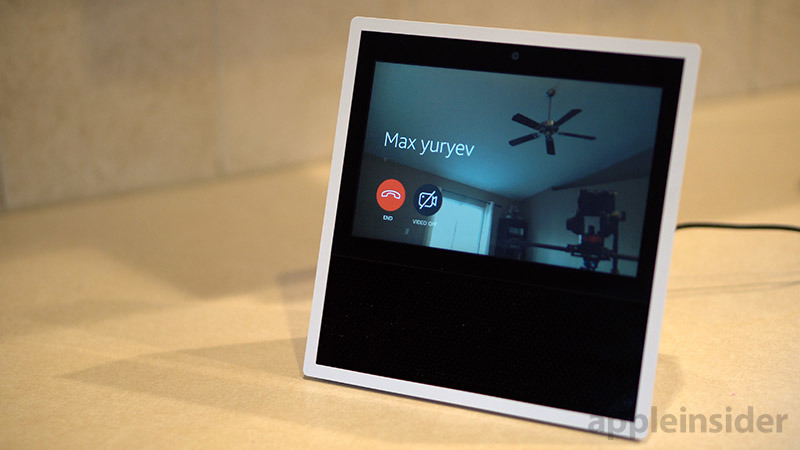 As soon as you select "drop-in" in the Alexa app, or ask Alexa to "drop-in" if connecting between two Shows, the receiving device will play a loud tone alerting those in the area. After that comes 10 seconds where the video feed looks frosted to give those in the room time to react if they need to before being seen. The tone is distinct and can be heard from the next room even with the door closed but if you have loud sounds playing you can definitely miss it and be surprised to see someone watching when you walk into the space the Echo Show can see. I've already scared my wife this way (on accident, I swear) and it will happen many times in the future. If you're not a fan of surprises, leaving "drop in" off will still allow video or audio call requests you'll just have to accept them before a connection.
For our family, the show is now working like a high tech landline that I can limit, and my kids get very excited when I drop in and spend a few minutes video chatting.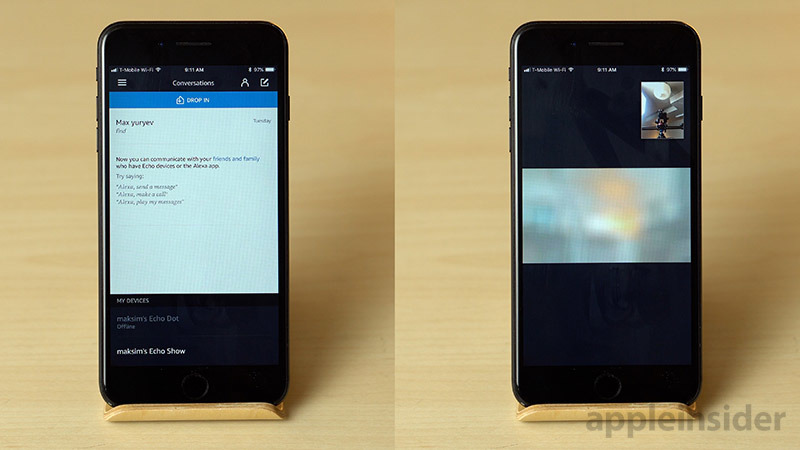 The competition is growing quickly in the home assistant space with the likes of Google Home, the upcoming Apple HomePod, and Alexa devices including the other Echo speakers and a wide variety of third party Alexa enabled devices. None of the competition has a display, other than one device called Nucleus which is a video intercom system featuring Alexa. Nucleus launched about a year ago for $249.99 but has recently dropped to $99 on their website. At first glance Nucleus seems almost identical to the Echo Show. Both have 5MP webcams, touchscreen displays (with the nucleus being slightly larger at 8 inches) and stereo speakers.
The Nucleus can intercom to configured Nucleus devices, to mobile apps, and even has a similar option to "drop in". The biggest difference between the two, other than the Nucleus managing to have even worse speakers, is it's running the voice only Alexa. That means that the majority of the benefits the Echo Show's display offers isn't available on the Nucleus. I also don't think they'll be coming to the Nucleus anytime soon based on Amazon dropping Nucleus from their site shortly after the announcement of the Echo Show. To make matters worse, Amazon was a major investor in Nucleus first investment round with it's Alexa Fund. Since the Show's announcement, Nucleus has dropped the price to $99 and have completely stopped posting on social media, causing us to assume they won't be along for much longer.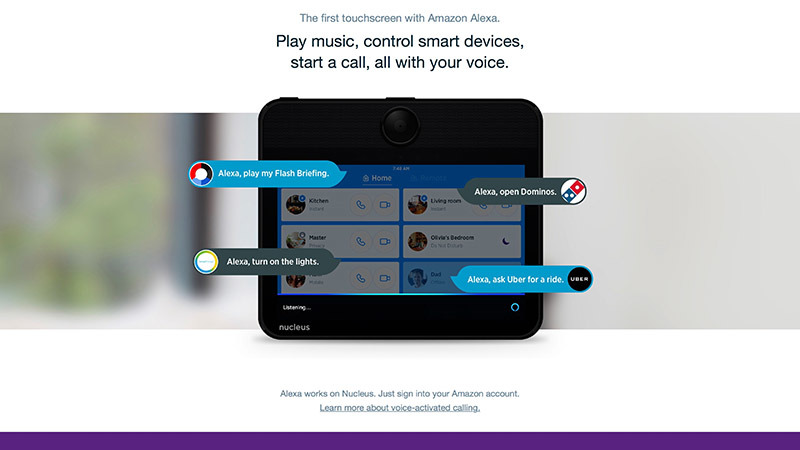 This December, Apple will release its own home assistant, the HomePod. With a high-excursion woofer and seven horn loaded tweeters, each powered by its own amp we expect the HomePod to have much higher quality audio than its competition. It will of course feature Siri as its assistant and integrate very well with Apple ecosystem. Price wise the HomePod is $130 more expensive and won't offer the main selling point of the Show, its display.
Apple integration is very limited. Shortly before Apple announced its HomePod at WWDC 2017, Amazon finally added iCloud calendar support to Alexa. Now you're calendar can sync and you can add new events using your voice
Alexa will hold a conversation with you asking for specific information and ending with a full recap and a final confirmation. I found this to work much easier than using Siri which often takes multiple attempts to get right, and often manually adjusting information.
Unfortunately, iCloud reminders don't sync and there's no support for Apple Music. After a half dozen failed attempts to play specific songs, I ended up subscribing to the Amazon Music Unlimited service that the Echo advertises.
Why not use an iPad?
If you're looking for a device that can control your smart accessories, answer questions, video chat, and play music and video, I have to mention the iPad. The 2017 iPad comes in at $329 and is a much more versatile device with a full web browser and millions of apps. You could buy a dock or stand and set it up in the kitchen.
We already have multiple iPads, and they never stay in one area. The kids move them around and the batteries die. On top of that the speakers are much quieter and the mic is nowhere near as sensitive at the eighth far-field microphones in the Show.
The biggest negative is that Siri, which can be set to an always-listening mode if the iPad is plugged in, is just nowhere near as capable or accurate as Alexa. Using an iPad could work for you, but for the reasons mentioned it hasn't worked for my family.
Taking into consideration the price and functionality of the Echo Show, we can easily get over low-res display, below-average video quality, and lackluster speakers, but one thing that's difficult is the angle of the display and camera. If you have your Echo show on a coffee table this likely won't be an issue, but having it set up at counter height really limits the view of the camera.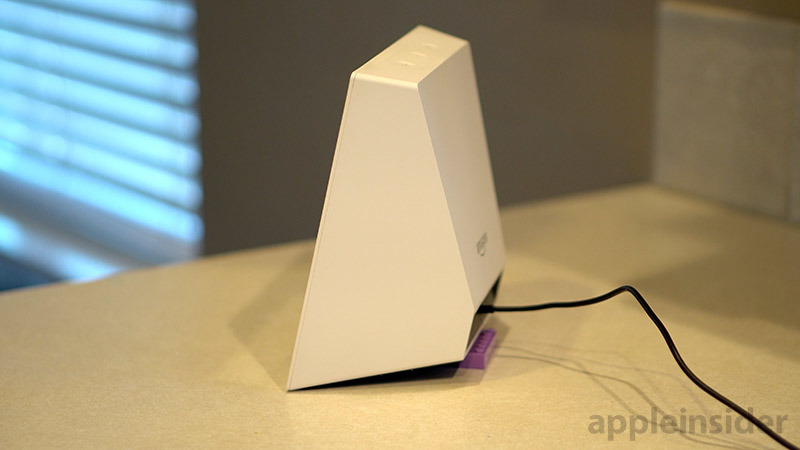 Ours is located in the kitchen facing the living room, and when video calling I can only see the very top of my sons head if he's standing in the living room, and won't see my daughter at all.
The angle is so significant that you can't see either couch in our living room, nor anyone sitting on them, but instead a fair chunk of the screen is taken up by my ceiling. Future models should offer a camera tilt option.
For now, we're stuck putting something under the show to adjust the angle, but it's possible third parties will offer solutions to fix this, much like the many accessories for other Echo products.
Conclusion
In the course of two weeks, the unimpressive but "good enough" hardware faded into the background as the experience took over. Amazon's cloud based "Alexa" is impressive in voice recognition, speed, and feature set, which will grow much broader now that there's also a display to work with. Alexa puts Apple's Siri to shame, and really makes a point on how Apple has been lagging behind in this space.The screen make a huge difference in the versatility of the Echo and an absolute no-brainer for the extra $50.
The Echo show offers a well rounded experience and is a bargain at the price point. If you've been shopping around for a home assistant, we'd recommend the Echo Show over a competitor or one of the other Amazon models. Its mature software outperforms other platforms, and the display one-ups other voice-only offerings. Even with our hardware gripes, Amazon was smart to keep the price point down, and because of that we expect them to sell a ton of these.
Score: 3.5 out of 5

Where to buy
The Echo Show is currently available at Amazon.com for $229.99 with free shipping. Customers also have the option of selecting Amazon expert consultation during checkout for no additional charge.