Foxconn's $10B Wisconsin LCD factory to supply Sharp, not Apple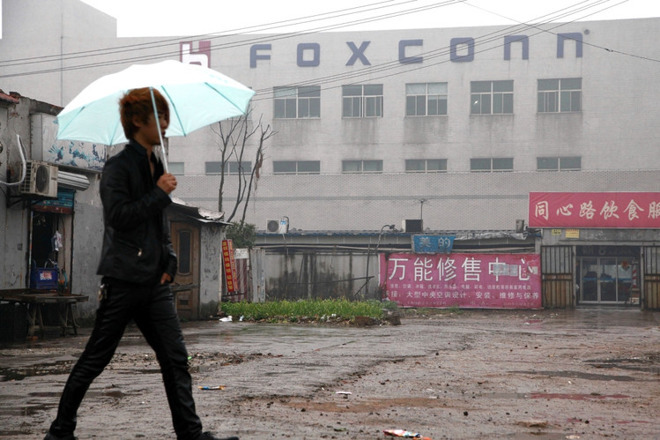 Foxconn CEO Terry Gou on Wednesday announced plans to invest $10 billion in an LCD manufacturing plant in Wisconsin, with production slated to go to subsidiary Sharp.
Gou presented the information to reporters gathered at the White House, where he was joined by President Donald Trump, Vice President Mike Pence, House Speaker Paul Ryan and Wisconsin Gov. Scott Walker, reports CNN.
Walker said the new 20 million-square-foot facility, slated for completion by 2020, will create 13,000 jobs in the region. A statement released by Foxconn clarifies the situation, saying the plant will generate 3,000 new jobs with the potential to create as many as 13,000.
Job creation has been a major focus for the Trump administration, with Trump himself often taking credit for striking deals to create new work for American citizens while keeping existing jobs on domestic soil.
"One thing we know about this president is how committed he is to reviving American manufacturing and bringing jobs home," Ryan said. "This right here shows actual results."
On Tuesday, Trump said Apple CEO Tim Cook "promised" to build "three big plants, beautiful plants" in the U.S. Whether Trump counts Foxconn's new Wisconsin production facility among those is unclear.
Instead of directly building, managing and operating electronics manufacturing plants, Apple has long outsourced production and assembly of its products to companies including Foxconn, as well as a handful of other East Asian firms. The extent of Apple's manufacturing job generation in America ends at Mac Pro and certain iMac models, which are assembled by outside companies like Flextronics.
Foxconn, Apple's main manufacturing partner, in April said it was considering a number of U.S. investments. Gou later clarified that his company was investigating the buildout of potential manufacturing plants in Ohio, Pennsylvania, Michigan, Illinois, Wisconsin, Indiana and/or Texas. Currently, the firm operates smaller facilities in Indiana and Virginia.
In wooing Foxconn, Wisconsin is reportedly offering a taxpayer-backed incentives package worth as much as $3 billion, the report said.
Note: Due to the political nature of this article, comments have been disabled. To comment on this article, register for our forums for access to the "Political Outsider" section.