Nearly complete Apple Park shown off in latest drone footage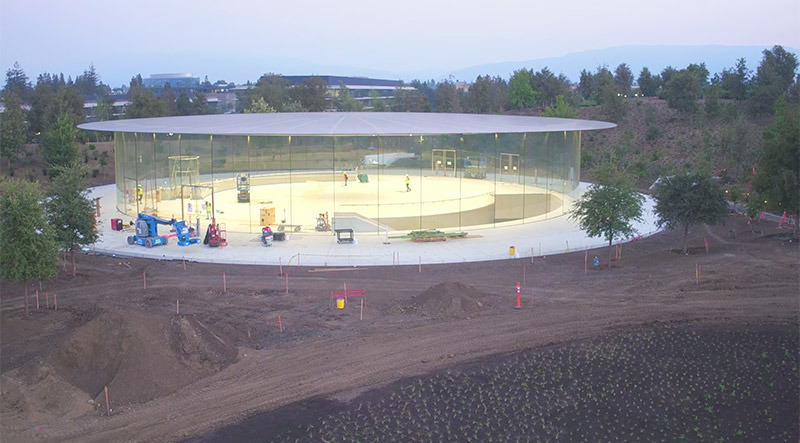 Apple is making great strides toward completing work on its Apple Park campus in Cupertino, Calif., with new drone footage showing landscaping and interior decorating nearly finished in many areas of the sprawling grounds.
Shot by drone pilot Duncan Sinfield, today's video highlights a nearly completed main "spaceship" structure, which will serve as Apple's central office building in the coming weeks. Views inside reveal progress on the building's interior design, with trees and tables now adorning the cafeteria and office furniture facing curved windows.
Apple appears to have finished installing the solar panel array that caps its main office building, though landscaping work inside the circular structure is ongoing. A grove of fruit trees currently lines walking paths and a small man-made pond, the latter of which will serve as a focal point within the ring's walls.
Outside, landscapers are beginning to lay down grass and shrubbery near the "spaceship" office structure. There still remains large unfilled patches of dirt between the large, drought-resistant native fruit trees that dot Apple Park, though seedlings are being planted.
Like his last video, Sinfield gets an up-close look outside the Steve Jobs Theater. Through the tall glass windows, viewers can clearly see two curved staircases going down into the underground theater foyer below. It appears construction is still ongoing at the auditorium, though Apple might have it ready in time for an anticipated iPhone event next month.
Work on the dual parking structures looks to be complete, as is construction of research and development offices. The ancillary structures are already occupied, with meeting tables and chairs, desks and other furniture clearly seen through the windows.
For his latest video, Sinfield mounted a Nikon KeyMission 360 camera to his DJI Inspire 1 drone to capture 360-degree footage of the latest Apple Park flyover. That video can be viewed below in Chrome on Mac or through the YouTube app for iOS.
Apple employees began the move from One Infinite Loop to Apple Park in April as part of a process scheduled to take six months.
Most recently, reports claim the company is working on a self-driving shuttle that will transport workers between Silicon Valley campuses. The solution, dubbed the Palo Alto to Infinite Loop (PAIR), is said to be powered by technology developed through Apple's "Project Titan" program.