Apple debuts latest 'Carpool Karaoke' trailers as this week's episode debuts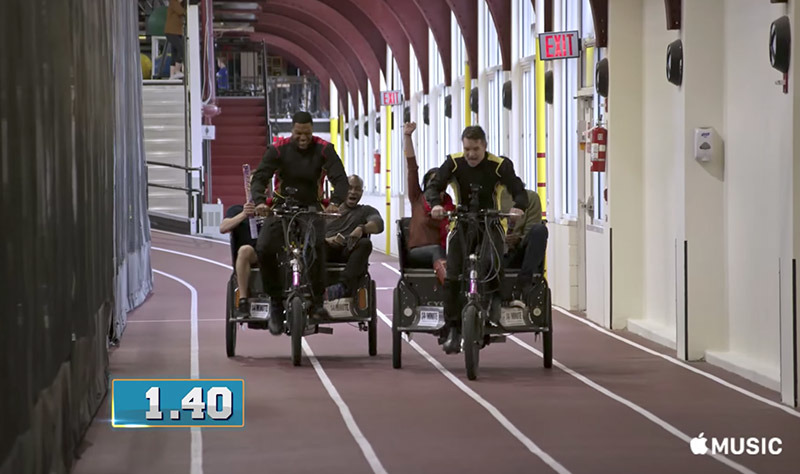 Apple late Tuesday posted a pair of commercials promoting upcoming episodes of "Carpool Karaoke" to its official YouTube channel, while airing the show's latest episode on Apple Music.
This week's pair of episodes was slated to feature the Cyrus family, including daughter Miley and father Billy Ray, and the pairing of Queen Latifah and Jada Pinkett Smith. The seventh episode starring Latifah and Smith is currently live on Apple Music, but the sixth episode starring the Cyrus clan has yet to go live.
Apple last week removed an ad for the Cyrus episode from its YouTube page, prompting speculation that the installment will not air. The commercial has since been reinstated, though episode six is still missing from "Karaoke's" Apple Music playlist.
As for this week's previews, Apple teases a "Karaoke" chapter featuring Shaquille O'Neal and John Cena, who drive through town singing hits like "Maneater" by Hall & Oates and "Gin And Juice" by Snoop Dogg. The pair makes at least one pit stop at a local basketball court to meet fans.
A second trailer offers a sneak peek at Michael Strahan and Jeff Gordon, who are seen singing along to "Physical" by Olivia Newton-John and "Closer" by The Chainsmokers featuring Halsey. Strahan and Gordon also face off in a pedicab race.
"Karaoke" premiered as an Apple Music exclusive earlier this month with an episode featuring Will Smith and show creator James Corden. The show is nearing its halfway mark after hosting stars like Ariana Grande, Metallica, Alicia Keys, John Legend, Maisie Williams and Sophie Turner.
Apple is slated to air 16 episodes, with upcoming installments featuring Joe Jonas, Ice Cube and more.