Tim Cook tweets support for Apple's 250 'Dreamers'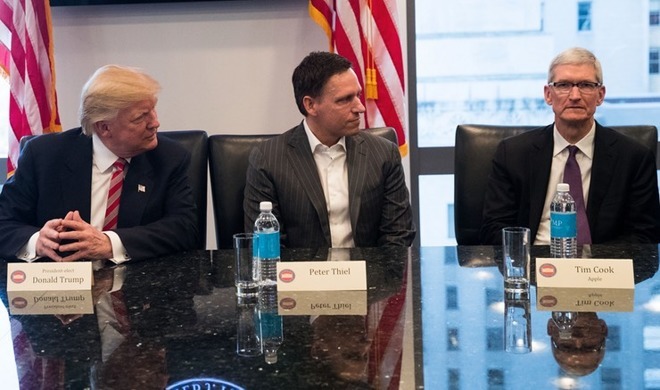 AppleInsider may earn an affiliate commission on purchases made through links on our site.
Apple CEO Tim Cook has taken to Twitter to continue spreading his message of support for the Deferred Action for Childhood Arrivals (DACA) program, posting that he stands with the 250 "Dreamers" employed by the company who are able to work for Apple via the immigration initiative.
Posted to Twitter on Sunday, Cook writes "250 of my Apple coworkers are #Dreamers. I stand with them. They deserve our respect as equals and a solution rooted in American values." At the time of publication, the tweet has been shared close to 8 thousand times, and liked over 24 thousand times.
Cook's tweet refers to the DACA program, which ensures children illegally brought into America are safeguarded against deportation. "Dreamers" are used to refer to children, young adults, and working adults who benefit from DACA, though the term stems from the separate Development, Relief, and Education for Alien Minors (DREAM) Act of 2001 that failed to pass as legislation.
250 of my Apple coworkers are #Dreamers. I stand with them. They deserve our respect as equals and a solution rooted in American values.

— Tim Cook (@tim_cook) September 3, 2017
President Donald Trump has previously advised he has considered the end of the program, in line with his campaign promises that would eliminate work permits for undocumented young adults, making them vulnerable to deportation. Originally expected to be announced on September 1, Trump is now believed to be preparing to announce a dramatic shift in immigration policy on Tuesday, which may include the weakening of DACA protections.
Cook recently joined other tech company CEOs in signing a letter from immigration reform group FWD.us addressed to Trump, U.S. House Speaker Paul Ryan, House Minority Leader Nancy Pelosi, Senate Majority Leader Mitch McConnell, and Senate Minority Leader Charles E. Schumer. Other signees include Google CEO Sundar Pichai, Hewlett-Packard CEO Meg Whitman, Microsoft CEO Satya Nadella, and Amazon CEO Jeff Bezos, with the FWD.us organization backed by Facebook founder Mark Zuckerberg.
The letter asks for a continuation of the DACA program, as removing it may mean the nearly 800,000 people covered by the scheme may not be able to renew work authorizations once their current documentation expires. FWD.us estimates a reversal of immigration policy could strip approximately $460.3 billion from the U.S. national GDP, and reduce Social Security and Medicare tax contributions by up to $24.6 billion.
"Dreamers are vital to the future of our companies and our economy," the letter states. "They are part of why we will continue to have a global competitive advantage."