Hands-on: Propel Star Wars iPhone-connected high performance battling drones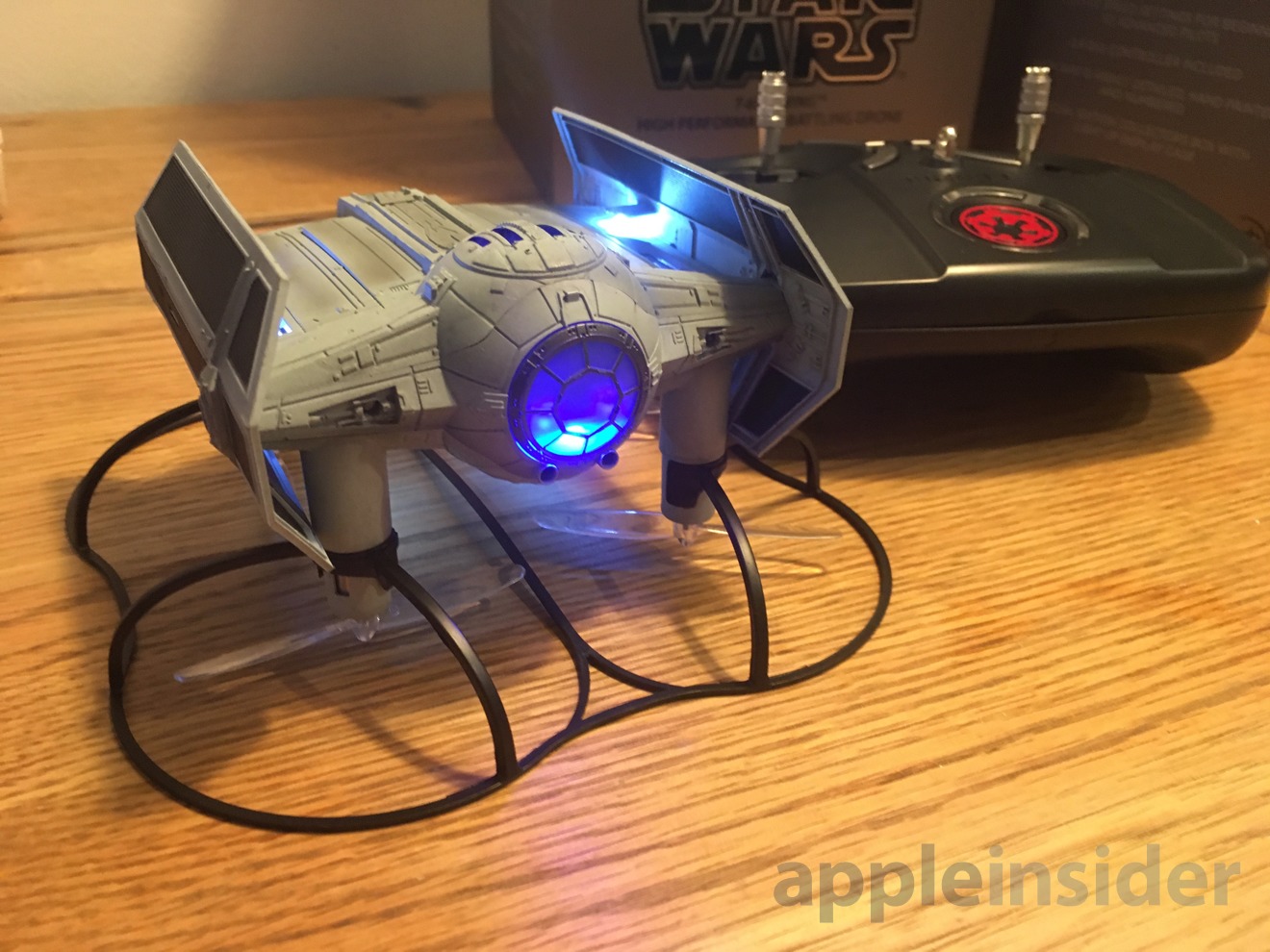 Through a mix of attention to detail, fan service, and miniaturized technology, Propel has made a flying toy that intends to delight both children and longtime Star Wars fanatics. AppleInsider offers a closer look at the new high-performance battling drones in our initial hands-on.
The drones are collector's editions, complete with hand-painted exteriors, numbered boxes, and a wax seal. Once you open it up, the craft is on full display and illuminated while music and dialogue from the Star Wars films plays.
The attention to detail right out of the box continues throughout the experience with the product. Even the display case itself is rechargeable, so you won't ever lose out on the joy of first opening the box, if you're the kind of person who wants to relive that experience.
The drones look really great, and include clear props that are actually underneath the vehicle rather than overhead, as it is on most quadcopters. You can also add propeller guards to the bottoms of the ships, though this obviously kills some of the spacecraft's aesthetic.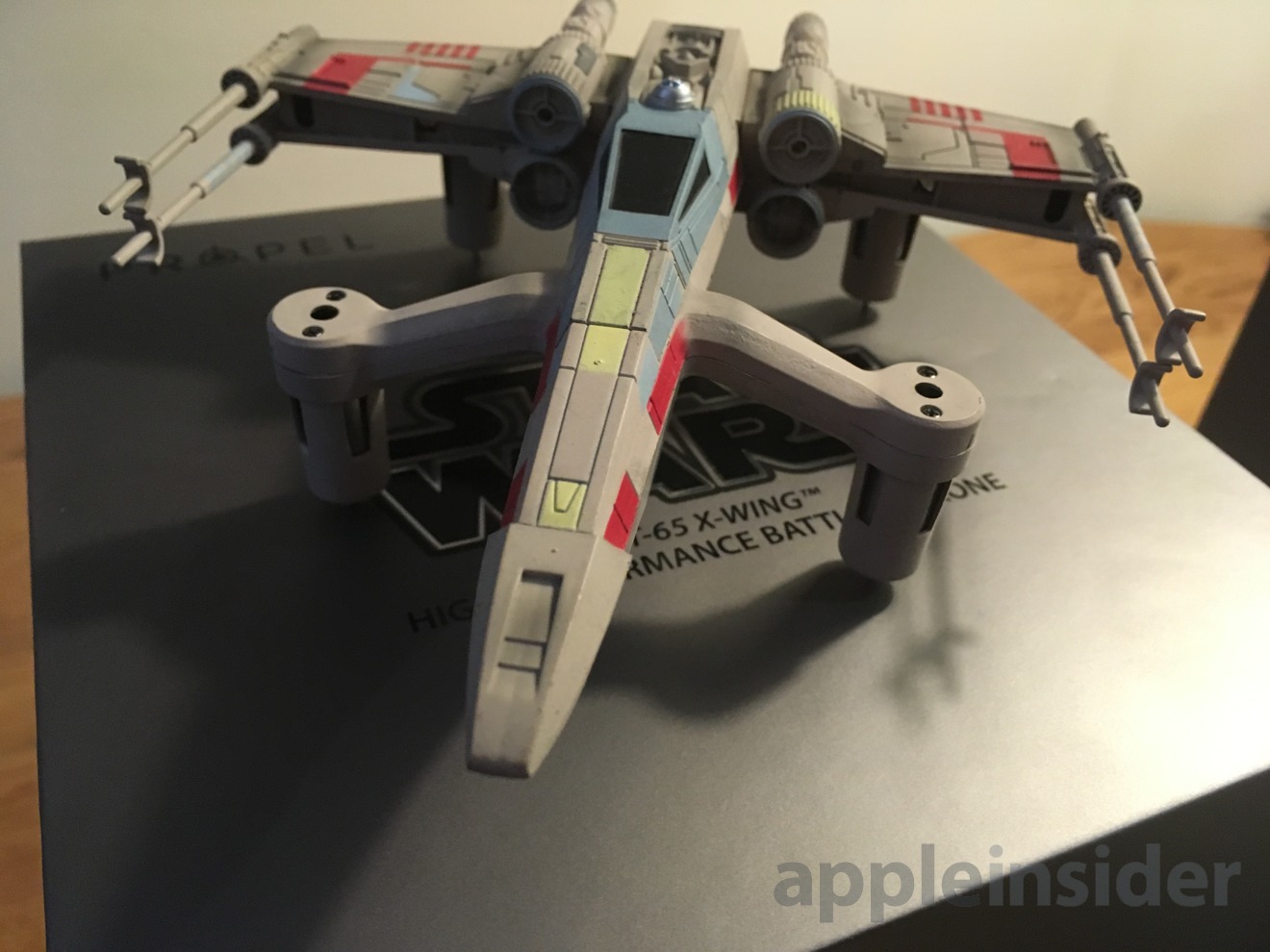 The "battling" portion of the drones involves infrared technology, allowing users to shoot at each other and gain points when playing against other pilots. Upgrade kits will be available this fall that will use lasers instead of infrared, requiring more precision and also giving the cool effect of visible lasers when used in a smoke-filled environment.
Propel says the batteries on its drones last for between 6 and 8 minutes before a recharge is necessary. Each unit comes with two batteries, and they can be recharged via wall adapter or USB in about 30 minutes.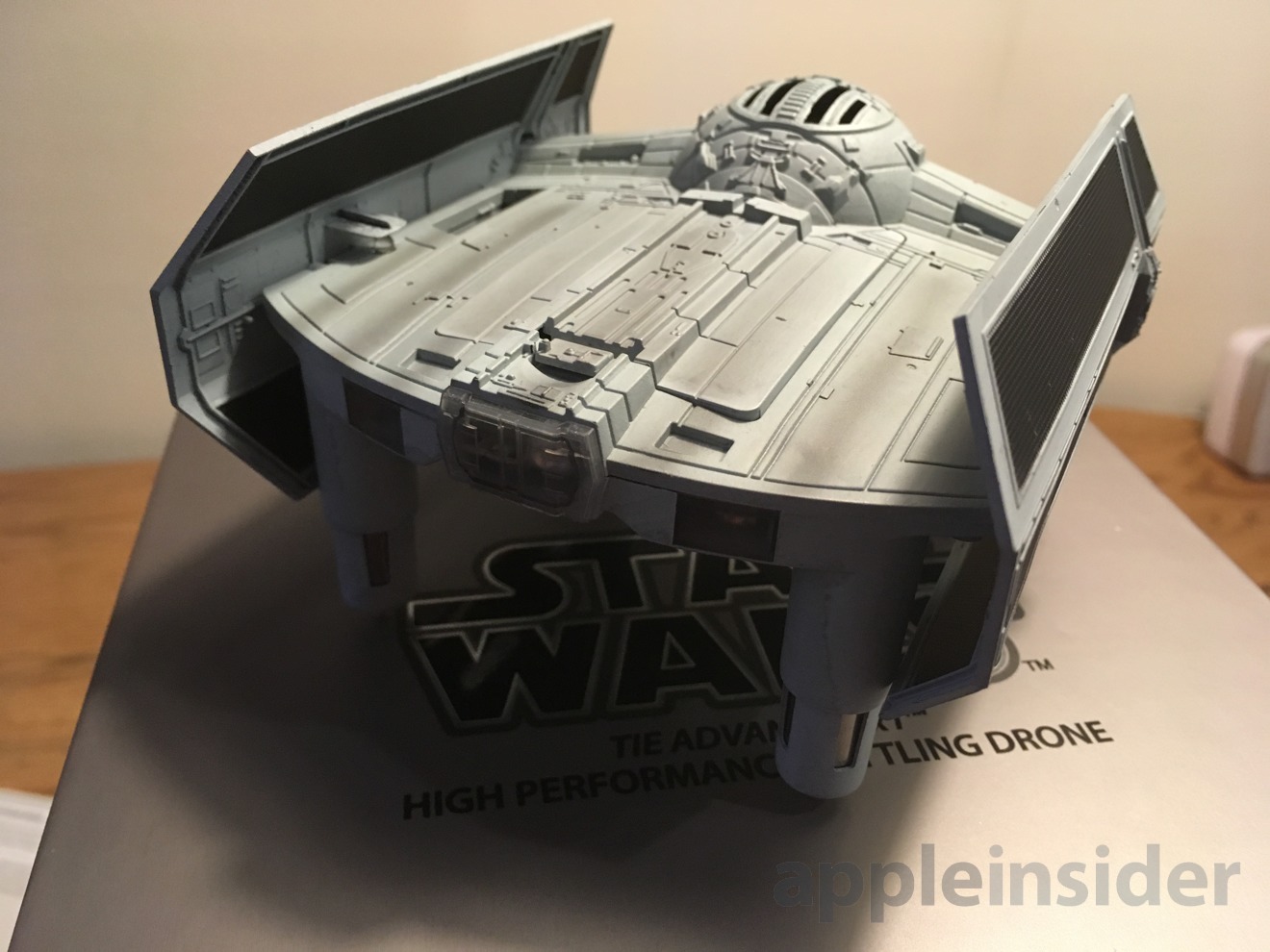 The drones also come with 8 extra propellers, spare parts, screws and other pieces. The ships themselves are made of a softer, flexible plastic that offers come give in the event of a collision.
Before you take to the skies, Propel offers an iPhone application that uses the same physical controller that ships with the drones, connecting via Bluetooth. Emulating the physics of a real-life drone, the app helps players feel comfortable without worrying about crashing their new $170 toy.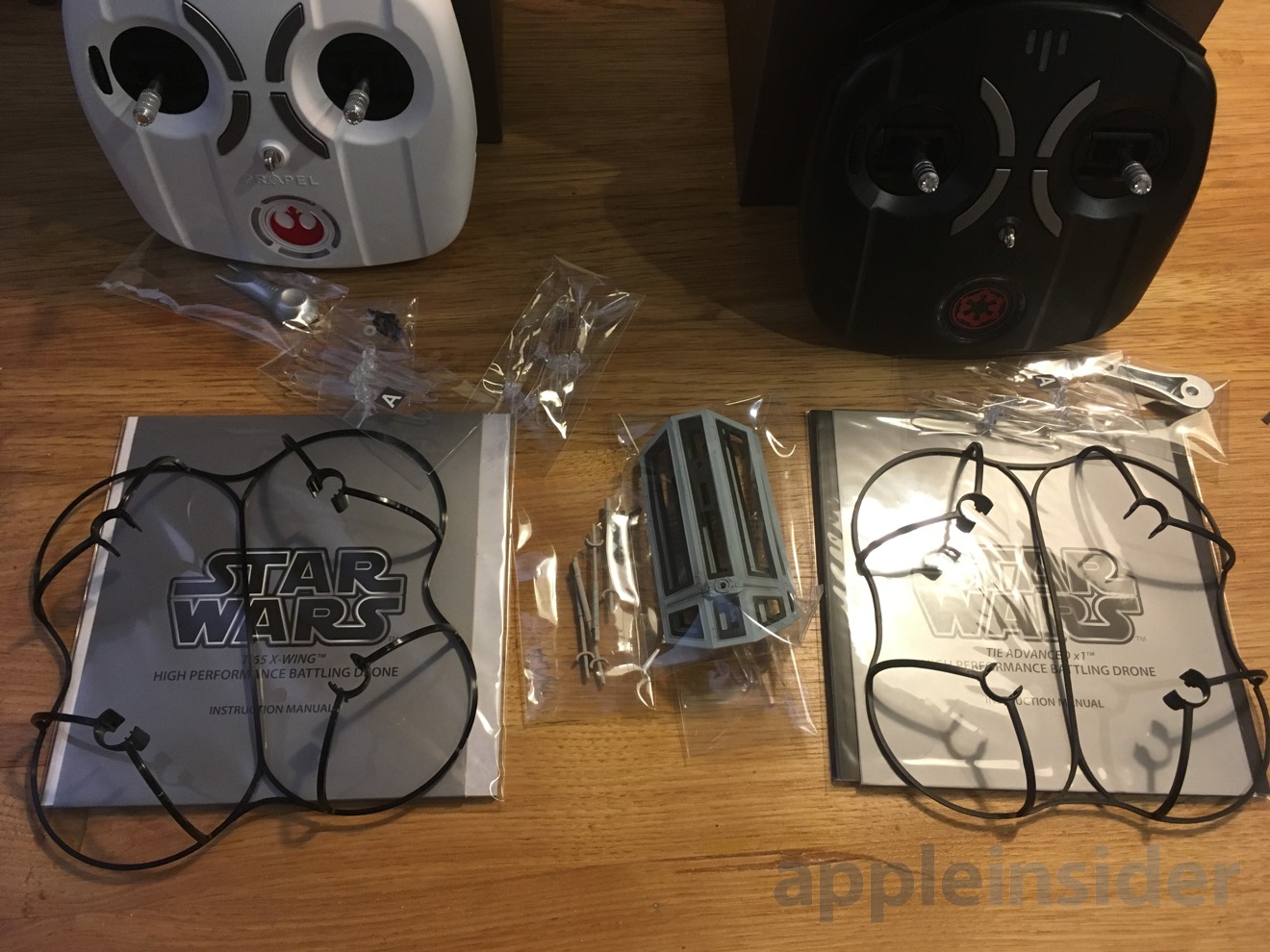 While the batteries on the drones themselves are rechargeable and easily swappable, the same cannot be said for the controllers, which rely on four AA batteries. To remove and replace the batteries, users will need to unscrew two screws from the back of the controller. While this is an inconvenience, Propel does thankfully include a screwdriver hidden in the right side of the controller, so you always have one on you.
Hilariously, when we went to install the batteries on the TIE Fighter, Emperor Palpatine's voice surprised us, coming out of the controller's speaker — despite the lack of batteries in the controller — to inform us to put four AA batteries into the proper compartment. Once again, Propel gets points for really pushing the Star Wars license to its limit.
Once the batteries were inserted, Palpatine cooed "Good, good." Fans are going to love this.
Unfortunately it doesn't come with AA batteries, so you'll need four of your own for each controller.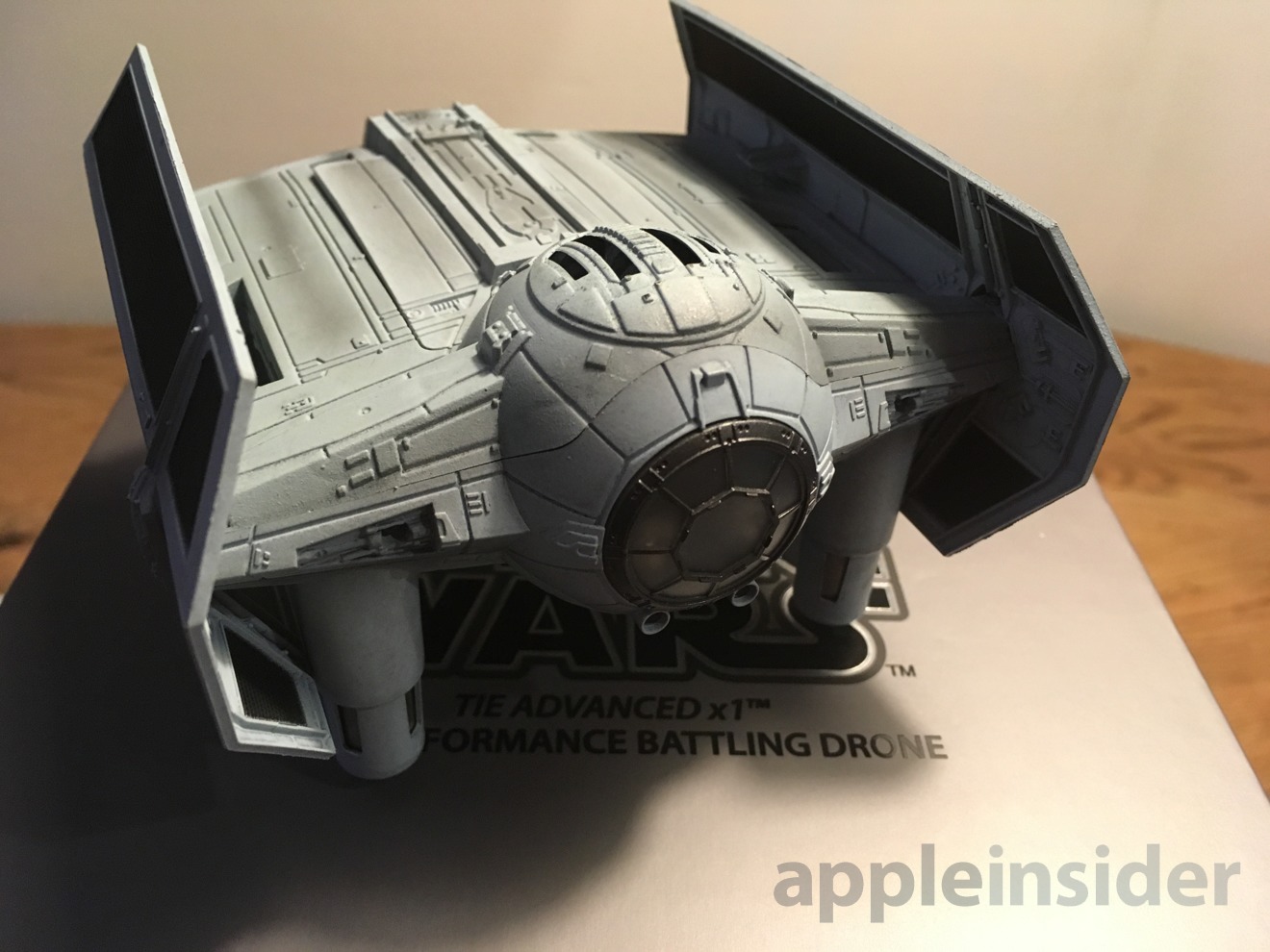 The controller also sports a retractable, extendable arm up top that can be popped out to hold an iPhone in place while playing. It has two sticks and four shoulder buttons, and will be comfortable and familiar enough to anyone who has used a drone or even played a modern game console.
AppleInsider will have more on Propel's Star Wars battling drones in the weeks ahead, including impressions with the iOS app, in our full review.
Where to buy
B&H Photo is currently accepting orders for all three Propel Star Wars quadcopters for $129.99 with no sales tax collected on orders shipped outside NY and NJ. In addition to B&H, Best Buy also has the Star Wars fighting drones in stock with free store pickup, although sales tax will be collected in all applicable states.
Propel Star Wars fighting drones with no tax in 48 states
Propel Star Wars Tie Advanced X1 for $129.99 *
Propel Star Wars T-65 X-Wing Star Fighter for $129.99 *
Propel Star Wars 74-Z Speeder Bike for $129.99 *
*B&H will not collect sales tax on orders shipped outside NY & NJ.