Supposed iOS 11 GM leak reveals new wallpapers suitable for OLED screens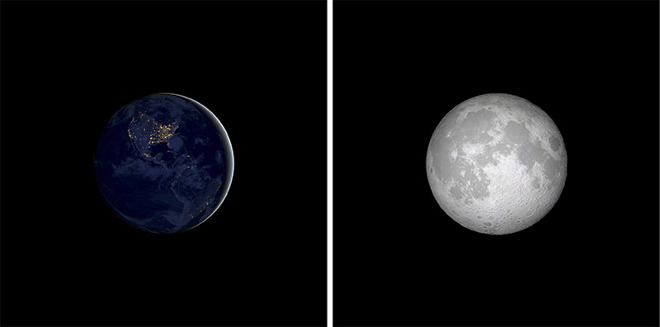 AppleInsider may earn an affiliate commission on purchases made through links on our site.
A golden master of iOS 11, the final version of Apple's next-generation mobile operating system, was reportedly leaked on Friday, potentially bringing with it clues as to what Apple will announce at its expected iPhone unveiling next week.
So far, 9to5Mac, which reported receiving the supposed iOS 11 GM earlier today, has managed to extract a few new wallpapers from the firmware.
Among the graphics Apple is shipping out to customers this year are images of the Earth from space, including a "Blue Marble" inspired image, as well as a nighttime view showing lights across North and South America. Another wallpaper features a close-up of the moon.
Notably, the space samples sport inky black backgrounds perfect for OLED displays like the one rumored for inclusion in a so-called "iPhone 8" model. Since OLED panels are emissive, meaning pixels emit light when displaying colors other than black, the more black in a photo or displayed image, the greater the energy savings. Perhaps not coincidentally, Apple also includes a solid black wallpaper in its iOS 11 GM.
That said, Apple has long offered substantially black backgrounds in iOS, to be used with iPhones and iPads with LCD panels.
Other new wallpapers include brightly colored macro images of flowers with gradient backgrounds and a series of rainbow graphics set against solid pastels.
With a final version of iOS 11 out in the wild, software sleuths have an invaluable resource that could reveal many, if not all, new hardware and software features Apple plans to reveal at its special event on Tuesday.
Along with new iPhones, Apple is expected to announce an LTE Apple Watch and a new Apple TV capable of 4K resolutions. AppleInsider will be at Apple Park covering the event live from 10 a.m. Pacific.