Next-gen Apple TV 4K streaming requirements, native resolution revealed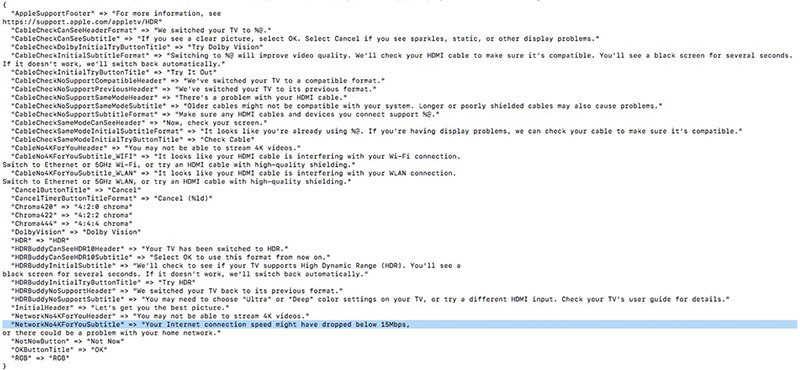 The iOS 11 GM leak continues to yield details about upcoming Apple products, with a Saturday discovery revealing 4K streaming requirements and resolution standards for an as-yet-unreleased Apple TV model.
According to code points uncovered in Apple's iOS 11 GM by developer Steven Troughton-Smith, who subsequently published the information to Twitter, users will need a stable 15Mbps connection to stream 4K content on the next-generation Apple TV.
Discovered in a code string for what appears to be automated hardware troubleshooting responses is the header "NetworkNo4KForYouSubtitle," which triggers the text, "Your Internet connection speed might have dropped below 15Mpbs, or there could be a problem with your home network." The response applies a bandwidth floor for 4K streaming on Apple's set-top box.
Elsewhere in the leaked firmware, Troughton-Smith found evidence of display resolutions and color options. Specifically, the fifth-generation Apple TV will output in 2160p UHD and support both Dolby Vision and HDR10 formats. Chroma subsampling, a form of compression that sacrifices color information for luminance data, is available in 4:2:0, 4:2:2 and 4:4:4 for HDR10 and standard YCbCr.
Potential Apple TV support for Dolby Vision and HDR10 first showed up in last month's HomePod firmware leak, which also contained references to the HLG, or Hybrid Log-Gamma, format.
Apple is rumored to unveil next-gen Apple TV hardware at its special media event on Tuesday, though not much is known about the device beyond what little information was revealed in the recent software leaks.
On Friday, a leaked golden master version of Apple's soon-to-be-released iOS 11 operating system made its way to blogs and prominent Twitterati. So far, the firmware has provided confirmation of an LTE Apple Watch, an AirPods revision and a slew of software features due for release with the hotly anticipated "iPhone X."
AppleInsider will be at Apple Park next week offering live coverage of Apple's expected product announcements.